Catching Up with Pally Matharu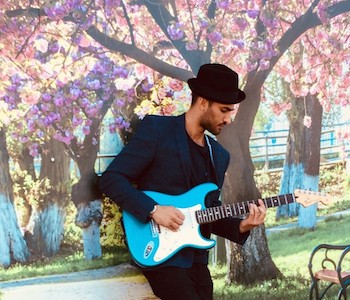 Rupinder Rainer caught up with Pally Matharu to find out a bit more about him and his interest in music.
For those who are totally oblivious to the music scene tell us a little about yourself?
So, my name is Pally Matharu and I am a musician based in Birmingham UK. I perform mainly Guitar and Piano at weddings and events throughout the UK specializing in covers of Bollywood, Pop, RnB and Bhangra/Punjabi music.
What instruments can you play and when did you start learning them?
I can play Guitar, Piano, Bass and I sometimes play a bit of mandolin or harmonium. I started quite late actually when I was about 20, I always had passion for music and the urge for playing instruments growing up but just couldn't find myself to learn them in my earlier years.
But when I was 20, I bought an acoustic guitar and started teaching myself by ear and a few YouTube tutorials and it just progressed from there and the same with other instruments too, and I'm still learning always with instruments there's always something new to learn or practice.
Have you performed in front of an audience, if yes when?
Yes, I perform at wedding and events and mainly at Asian weddings so there's always lots of people to perform in front of and its always a great experience.
What has been your most memorable musical experience till date?
I went to see Bruno Mars in concert a few years ago for his 24k magic world tour and he is just an amazing performer and multi-instrumentalist so it was really inspiring to watch someone of that caliber live.
What is it about being in the industry you find a struggle?
I don't think there's that much struggle because I think these days we musicians and artists or producers have a better platform with social media etc so it's a lot easier to connect with people and collaborate with other artists and musicians, and in my case I just make sure I practice regularly so that I perform well and to a good standard.
What would you like to achieve in this industry?
I would just like to keep performing at weddings and events for the time being and just try to keep getting better and keep practicing and collaborate with other musicians within the industry.
Other than Bhangra, what other genre of music do you really enjoy listening to, or maybe take inspiration from?
I'm a huge fan of RnB music and that genre always inspires me as I just love the vibe, melodies etc. I'm also a fan of Michael Jackson and Prince and the style of music they used to make are just timeless classics that never get old and they always made songs that made you feel something which I think is one of the most important factors in music.
Everyone knows that the UK scene is popping off like crazy. Everyday there's a new artist, but are they getting that radio play and attention? What do you think can be done to help improve artists like yourself?
Well speaking from a musician point of view you just have to keep practicing your craft and learning how to improve your music it is as simple as that and that's the only way you can get better. That will then in return lead to good music which will always be recognized and will gain attention.
Any final words for our SimplyBhangra.com readers?
Yes, check out my website www.pallymatharu.co.uk and my social media- Instagram, Facebook, YouTube @pallymatharu where you can see a lot of my instrumental covers and keep supporting all the musicians, artists, producers and singers involved within the industry. Thank you
You can follow me at Follow @rupinder_rainer