Catching Up with Deep Matta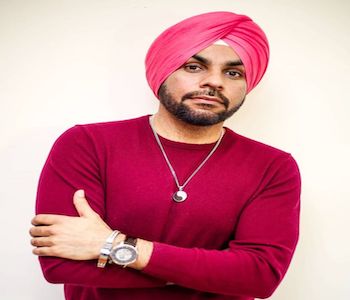 Rupinder Rainer caught up with Deep Matta to find out a bit more about him and his interest in music.
Hello! Welcome to SimplyBhangra.com! Tell us a little bit about yourself.
Hi, my name is Deep Matta. I am a simple guy who has a loving family and few close friends. I like music, dance and other forms of art. I grew up in a very culturally connected family in Punjab and spent my school & college years performing art at different levels.
Now I live in the Brooklyn area of New York City, another culturally influenced part of the world, and love making music and interacting with artists pursuing different art forms.
Fabulous, so who and what were your early passions and influences?
I grew up listening to a lot of Punjabi folk music & Kavishri, performed by legendary artists such as Joga Singh Jogi, Didar Sandhu, Kuldeep Manak, Gurdas Maan, Surinder Shinda, Gurmeet Bawa, Surinder Kaur, Ranjit kaur, Md. Sadik, Hakam Sufi etc.
Bhangra and Singing has been with me right from the beginning of my childhood. I remember as a little kid sitting with my mother and aunts (maasis) and singing ghoriaan and suhaag (Punjabi wedding folk songs), that was some good vocal training right from the beginning. I remember, Me and my sister had remembered a bunch of Gurdas Maan's songs and I would sing those songs all the time at home, in school competitions etc.
During high school and college, my love for Bhangra took over and singing took a back seat for a few years. I formally learned Bhangra, but never paid attention towards taking formal music or singing lessons. Much later in my twenties, my love for singing and performing on stage collided and with my friend and co-artists in New York City, started to perform as a singer at different music venues. I also took some vocal coaching lessons from a Jazz musician/singer.
As an artist how do you feel about the relative death of albums and the single nature of the industry today?
I think this was the case till last year, but current covid related conditions have changed this trend and we have seen multiple albums released/announced in the last few months by some of the big artists in Punjabi music industry.
Personally, I think the trend of releasing an album is great for the industry & listeners as long as the artist has a budget to do a full album.
Moving onto your new single, how did the concept of this song come about?
Idea of the "Folk Project" was in my head for a long time. Initially I had thought of just recording a medley of classic Bhangra/Folk songs. But sitting at home during this global quarantine, I decided to write my own lyrics and that changed the direction to a complete new musical project.
Also, i had been experimenting with making beats from some time now, so being at home i decided to give it a go and make music myself for this new single. So using the folk compositions, writing my own lyrics and for one part of the song using lyrics by my favorite childhood singer Didar Sandhu (which is also my father's name, coincidentally) this almost five minutes long single came about and I decided to name it "Folk Project".
What you believe is the most special or unique aspect of this track?
Unique aspect is that this track is almost 5 minutes long.. LOL, when more than 95% of Punjabi songs being released today are 3 or under 3 mins long.
Current trend in Punjabi music, based on my observation, is using Hip Hop beats and RnB feel in almost every song released in the past year or so. There is very little content that relates to Punjabi Folk style of singing, which I believe is the core of Punjabi music. Bhangra songs are a subset of the same Punjabi Folk style singing.
This track is unique as it is different from the current industry trend.
What was the overall vision when going through the creative process?
I worked through this project with my heart leading the decision process. There was no logical or commercial consideration. I wanted to take some Punjabi folk compositions that I have always loved and write lyrics to it. Because the idea was to keep the singing style and lyrics as close to some classic folk songs.
Musically I experimented with different sounds by using synth, guitar, even horns to lay down the music arrangement. I think music could have been better as I am not a music producer, but overall the final track I think turned out to be pretty close to my creative thought i had.
We've seen you grow and develop so much, trying different sounds on a variety of hits. Are these conscious phases? Do you move to a new phase knowing when it's time to do so?
Right from my debut track in 2017, I think I have always experimented with my music. I have made music that I love to make, not by what industry trend is or what could be a commercial hit. Fortunately, so far I have had excellent support from my fans. That motivates me to continue to make music that I love. For now I am enjoying creating music with a happy dance vibe and will continue to focus on that.
As the industry has evolved over the past decade, the majority of income for artists now comes from shows and live performances; do you think this model is sustainable in the long run?
Yes i think this model works, but at the same time I think the industry is still growing and there is a lot of scope for individuals to create their own space. Having a viable income via music streams and social media brand collabs is something that is still missing from Punjabi industry, which I believe is going to change soon in the future. This long quarantine phase has confirmed that theory as well.
Can you name a few of your biggest supporters and explain how they have impacted your life and career?
My family has been my biggest supporter, always. Even today when I record a track, my immediate family is the first one to listen and give feedback on it. I have been fortunate enough to connect and make good friends who always encouraged me to keep pursuing this art form despite highs and lows. Since I did not have formal music training, I learnt a lot while performing live for many years with my band Rhythm Tolee, (which btw is the first and only Punjabi band in the New York City area).
I have been singing at live shows & music venues across New York areas constantly since 2012, considering that I recorded and released my debut studio single in 2017. Performing live with my band is something I love and has impacted my music career in the most positive way and it continues to do so.
That is the reason I decided to use some of the footage from my live performances in the music video of "Folk Project". So many thanks to my boys at Rhythm Tolee :)
What can your audience look forward to from you in the future? Any more projects you're working on? Anything you're able to share with us?
As I mentioned I am enjoying this zone of creating music with a happy dance vibe to it. I am gonna continue to do so for now. I have two projects almost near completion. We may release audio of one song pretty soon, as shooting videos is still a bit challenging with current restrictions. A lot of music coming soon for my loving fans, stay tuned. Much love. Rabb Rakha.
You can follow me at Follow @rupinder_rainer