Punjabi Movie: Mahi Ve ft. Rajvir Jawanda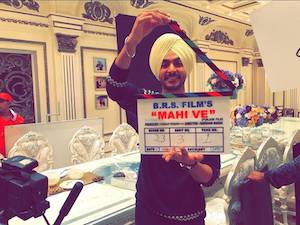 The dashing turbaned singer Rajvir Jawanda, who made his acting debut this year with Subedar Joginder Singh, has finally signed his first film Mahi Ve!
The man had been turning down offers as he wasn't finding anything substantial enough but now, seems that he's got what he was looking for.
Currently shooting in Thailand, Rajvir Jawanda's first film as the lead hero is titled 'Mahi Ve'. The female lead opposite him is Sara Sharma. The man posed with a clap while making an official announcement about this film on his social media handles.
He captioned the picture as - "Waheguru di mehar naal apni debut movie MAHI VE da shoot start ho gya . Jaldi hi Hor sari jankari v ditti javegi @rajvirjawandaofficial #jassrecords"
While talking to Ghaintpunjab, Rajvir exclusively shared that the film is of romantic genre. The story revolves around a boy and a girl and how their life goes through different phases. Currently in Thailand, Rajvir said that we'll shoot the next phase of this film in Punjab after the Thailand schedule gets wrapped.
Directed by Darshan Bagga, who has given films like Mera Punjab (1994), Rabb Ne Banaiyan Jodiean (2006) and Shikaar (2004), 'Mahi Ve' is produced by Pawan Aggarwal under the banner BRS Films.
Besides Rajvir and Sara, the other starcast includes Jaswinder Bhalla, Upasana Singh, Harby Sangha, and others. About the release date, Jawanda said that tentatively, we'll release the film in May 2019, but we're till to seal a date.
Last seen as an army personnel in the multi starrer Subedar Joginder Singh, Rajvir Jawanda is one singer turned actor who has given constant hit songs but in terms of acting, he's still to prove his worth.
Read More Here (GhaintPunjab.com)