SimplyBhangra.com #Bhangra Songs 'October 2023'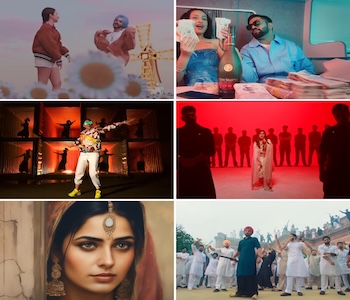 Every month we look back at the songs released in the past month so here are some of our #Bhangra #Songs of October!
Dilpreet Dhillon released the first track from his album Let's Go entitled Note which has been composed by Desi Crew. The song illustrates how she is more important than money therefore can spend as much as she wishes.
There are no special effects in the video and all stunts were actually performed by Dilpreet for the video such as the ones in mid-air which has been directed by Director Whiz.
Ranjit Bawa released the track Gaani featuring the beautiful Rubina Bajwa. The romantic track which has been penned by Mandeep Maavi and composed by Icon is perfect for all those couples that wish to propose to their partner.
Jenny Johal is back with an upbeat bhangra track entitled Vekh Vekh which has been composed by Shaan & Verinder. Get your dancing shoes on and bhangra moves ready as this is a track for the dancefloor.
Jazzy B has released Ishq Di EP where he has worked with artists such as Bunty Bains, Aman Hayer, Mani Longia, Chet Singh, Satti Khokhewalia, Jashan Inder, Starboy X and Prabh Bains. Some tracks will talk you back you back to your childhood memories such as the track Bobby Cut.
Other tracks released in the month were Balle Balle by Kaur B featuring Dilpreet Dhillon, Pyaar Mangda by Navjeet, Sardaar Munde by Ammy Virk, Jhumka by Jasmine Sandlas and many more!
Diljit Dosanjh released his album Ghost and Ranjit Bawa released Mitta da Bawa 2.
You can follow Us at Follow @Simply_Bhangra