STG release Haske Jilo (Live Your Life)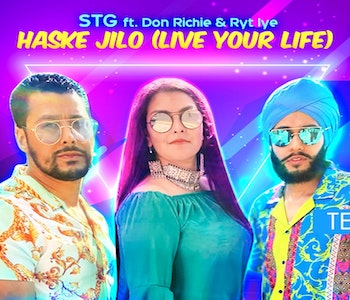 G.S. Beats presents a Bob Rai presentation with the full video of STG's official debut single Haske Jilo (Live Your Life) featuring music legend Don Richie (TheRealDon Richie) and singer/rapper Ryt Iye.
Haske Jilo is a summer vibe that sends out a message of positivity and STG telling the audience to keep on laughing and smiling through life as we all go on this same journey.
Recorded and mastered at Don Richie Recording Studios in Birmingham UK, Haske Jilo is sung on a afrobeats instrumental by Punjabi artist Taran with Deegs featuring on English vocals and the rap. The track was mainly written by STG member and lyricist Freshy Matharu who also introduces the tune with a Punjabi poem (shayari) to set the tone.
Credits:
Poem: Freshy Matharu
Singer: Taran
Singer/Rap:Deegs
Special feature: TheRealDon Richie (Don Richie) and Ryt Iye
Lyrics: Taran, Freshy Matharu, Deegs, Surinder Matharu
You can follow me at Follow @rupinder_rainer