SimplyBhangra.com Top #Songs 'July 2022'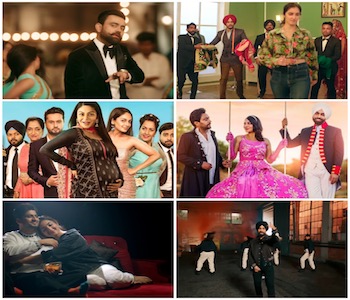 Every month we look back at the songs released in the past month so here are some of our top #Songs of July!
Rajvir Jawanda releases the track Veham. The track illustrates how he tries to impress the girl he loves and says will fulfil her wishes however she says don't be mistaken as she won't fall for your romantic lines:
'Haan Gallan Teriyan Ch Jatta Aaju Jatti
Ve Eho Tera Veham Aa Ve Eho Tera Veham Aa'
Gurnam Bhullar releases a romantic track entitled Kabil. To love someone isn't easy but showing the same love and care for someone that is not mentally well is extremely special. It makes the individual seem extra special and they are suitable for each other's love. It shows regardless of what they are or will go through they will always be there for each other.
Nowadays many artists are releasing EP's. Last month Shivjot released High Five, Diljit Dosanjh released Drive Thru and Jordan Sandhu with Fame and there are many in the pipeline.
Other tracks released in the month were Nazar by Harpinder Gill, Reborn by Rajvir Jawanda, Allah Maaf Kare by Amrit Mann, Jhanjhar by Raja Samra, Proni by DJ Dav featuring Jaspal Rana, Patake by Khan Bhaini featuring Gurlez Akhtar, Lutt Lai Giya by Ranjit Bawa and many more!
Laung Laachi 2 is set to release on 19th August 2022 which casts the same artists as the first film Ammy Virk, Neeru Bajwa and Amberdeep Singh. The first film illustrated how a girl marries the man chosen by her family however she does not wish to announce this marriage so she can fulfil her dreams but obstacles and problems arise in between. Wonder what the second film has in line. Check out the trailer:
Neeru Bajwa Entertainment, Omjee Star Studios and Sarin Productions presents Beautiful Billo which will be releasing on Zee5 on 11th August 2022. This film will only be releasing on this digital platform and not in cinemas. The film cast is Neeru Bajwa, Rubina Bajwa and Roshan Prince. Check out the trailer here:
You can follow me at Follow @rupinder_rainer