Popsy Music ft. Roop Kaur - 295 Tribute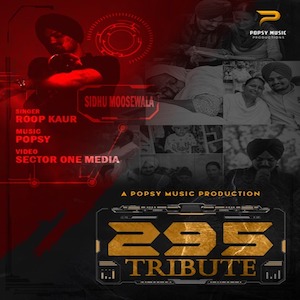 After the tragic loss of one of the most iconic Punjabi artists of an era, Popsy The Music Machine and Roop Kaur have come together to create a heartfelt tribute for the legend himself, that is, Sidhu Moosewala.
Song - 295 Tribute
Singers - Roop Kaur
Music - Popsy
Lyrics/Composer - Sidhu Moose Wala
Mixed and Master: Popsy at Future Shock Studios (U.K.)
Recorded at: Future Shock Studios (U.K.)
Video - Sector One Media
Label - POPSY MUSIC
Popsy had been planning to work with Moosewala over the years but time and fate did not seem to favour the collaboration. After much contemplation following the artist's death, Popsy decided to call Roop Kaur, a talented singer from the UK who made her first introduction into the Punjabi music scene with her Dharmak release titled "Apna Birad Pachaan".
The duo felt a sense of unreality and disconnection for some time after the news had surfaced. They decided the time was now right to outlet their emotions in the way they felt best; Music performed by Popsy accompanied with vocals by Roop Kaur singing along to Moosewala's words and composition for the highly acclaimed song 295. This led to the creation of their latest release the "295 Tribute".
The original song touched millions of hearts across the globe and received particular acclaim after Moosewala's death due to its candid lyrics speaking of the truths about living in a democratic Nation. Some also believe the title of the song is directly linked with the date he was assassinated.
Popsy has made clear that his intentions are not to make any profit from this tribute song but instead to divert all proceedings towards a charitable cause that Sidhu Moosewala's parents are funding at this time.
"It is a time of hardship for Sidhu's parents, his loved ones and music lovers across the globe. I just want to give something back in my way". - -Popsy The Music Machine
You can follow me at Follow @rupinder_rainer