SimplyBhangra.com Top #PunjabiMovies Songs 'June 2022'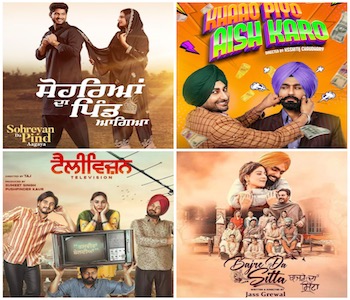 Every month we look back at the songs released in the past month so here are some of our top #PunjabiMovies songs of June!
'Television' is a film which illustrates about how people used to live their life back in the days about 30 years ago. These days a television is seen as a necessity however many years ago this was seen as a luxury and people used to gather together is the village to see what's showing on television. The film stars Kulwinder Billa, Mandy Takhar and Gurpreet Ghuggi. Take time out to watch the film to see exactly what the film entails.
Khao Piya Aish Karo released on 1st July starring Ranjit Bawa, Tarsem Jassar and more. The film is about two brothers that's argue with each other over small things. However, alongside these arguments there is an element of love, fun, emotions and care.
After the success of Surkhi Bindi, Gurnam Bhullar and Sargun Mehta collaborate together for the movie Sohreyan Da Pind Aa Gaya. The film will be releasing on 8th July 2022. Much information has not been released however after watching the trailer we will have to visit the cinemas to see how the confusion arose and which way this love story ended up.
Bajre Da Sitta will be releasing on 15th July 2022. The film is about a young woman that really loves to sing as she has a melodious voice however her husband will not let her pursue what she loves doing due to society expectations. The film casts Ammy Virk, Tania and it is Noor Chahal's debut movie. Noor is well known on social media for posting live cover songs which has received so much love.
You can follow me at Follow @rupinder_rainer