SimplyBhangra.com Top #PunjabiMovies Songs 'May 2022'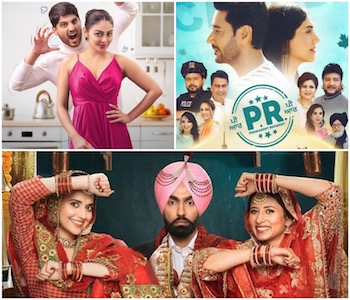 Every month we look back at the songs released in the past month so here are some of our top #PunjabiMovies songs of May!
The Punjabi film industry is growing year on year and bringing high quality films. In May several films were released as well as announcements of upcoming films.
Firstly, let's start with the blockbuster movie Saunkan Saunkne starring Nimrat Khaira, Ammy Virk and Sargun Mehta. The movie took over the box office with a blockbusting opening in India and worldwide. Not just that… Weeks later the film still was a hit as cinemas were fully packed.
The storyline to the film is quite different to others and showing a new side which, the title of the movie also hinted this. On social media you will see the title track got people making reels as they loved the lyrics and the acting behind it. If you have not yet watched the film it should definitely be on your watch list.
PR was another film which released at the end of May. Artists such as Harbhajan Mann, Kanwaljit Singh and Gurpreet Ghuggi were a few artists that got the Punjabi movie industry on an international level which has led to the level it is now. Many grew up watching them on the big screen.
And this film took many back to their childhood as the film included these artists and the storyline was also similar to what used to get released back in those days. It was also very touching as it starred the Late Sardool Sikander who was an icon in the music industry.
There are several celebrity couples where the women is older than the man. And the film Kokka also portrays this where an older woman falls in love with a younger man. The film casts Neeru Bajwa and Gurnam Bhullar. This is also the Deesh Sandhu's debut film where she plays as a supporting act. Deesh is well known for performing at ladies sangeet in the UK.
Sher Bagga starring Ammy Virk and Sonam Bajwa was supposed to release on 10th June 2022 however the release has been delayed due to the unfortunate event the industry has faced.
You can follow me at Follow SimplyBhangra.com