SimplyBhangra.com Top #Bhangra Songs 'August 2021'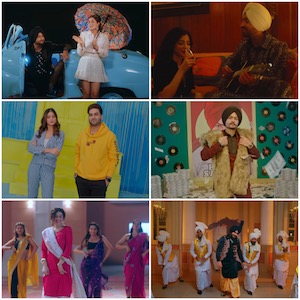 Every month we look back at the songs released in the past month so here are some of our top #Bhangra songs of August!
Himmat Sandhu has released two songs from his album My Game last month, the first being the title track and the second with Big Bang Bhangra which are very different from each other. However, how is the rest of the album have lined up for us?
As we have seen over the years Bunty Bains Productions likes to introduce new artists in the industry and give them a platform to showcase their talent. Recently he worked with female singer Pari Pandher and she released her debut track 'Sheesha' which featured Jordan Sandhu. After listening to the song, you will see she definitely has a very bright future ahead in the industry. Her smooth delicate voice was perfect for this track.
In the past Diljit Dosanjh's albums have mostly been one for the dancefloor as they are upbeat bhangra songs. However, this time round he moves away from the bhangra beats showcases a different vibe in his music with the album 'Moon Child Era.' The music has been composed by intense and lyrics by Raj Ranjodh.
Joban Sandhu track 'Engagement' illustrates how a man stays close and prioritises her before getting engaged. However, a soon as they are engaged he starts to care less so she starts to wonder how it will be after marriage.
Other songs released in the month were 'Ghungru' by Ranjit Bawa, 'Soh Kha Ke' by Surjit Bhullar featuring Sudesh Kumari, 'Jis Din Chad Gayi' by Jordan Sandhu, 'Naar Ni Dekhi' by The Landers, 'Birth Place' by Vicky, 'Schedule' by Tegi Pannu, 'Mera Mahi' by Mannat Noor and many more!
You can follow me at Follow @rupinder_rainer