SimplyBhangra.com Top #Bhangra Songs 'May 2021'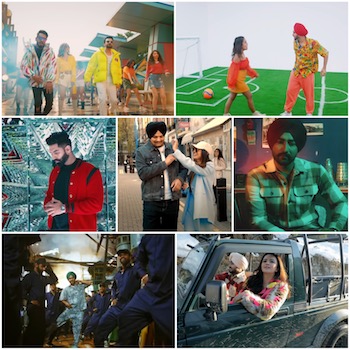 Every month we look back at the songs released in the past month so here are some of our top #Bhangra songs of May!
'Mannda Ee Ni' by DJ Flow featuring Happy Raikoti illustrates how the girl wants to express her feelings for ages however he is not asking what her feelings are for him. The upbeat catchy beat is perfect for the summer. DJ Flow also released the track 'Yes Or No' which is about her expressing her feelings.
The lyrics to Parmish Verma's 'Meri Marzi' are likely something you have never heard before which have been penned by Homeboy. As indicated in the title he gives a long list of the thing he will do according to his wish. So, what is this long list.... take a listen here:
Sidhu Moosewala will be having a busy summer where he announced his album 'Moosetape' which will be featuring not 10 or 12 but approximately 30 songs! That's right 30 songs and with release date already finalised! He has already released 3 songs from the album which people are loving. So, let's see what the rest of the album has for us.
How many married couples can relate to Neha Kakkar's and Rohanpreet Singh's 'Khad Tainu Main Dassa?' This is a song that will put a smile on your face or maybe even have a little giggle. You might be asking how and why... well check out the song and you will see what I mean.
What can I say about Ranjit Bawa's release 'Fikar Kari Na Ammiye.' The video is very touching alongside the lyrics penned by Babbu. The song illustrates how one struggles in life but will not beg to people and will work really hard towards his goals. He tells his mum not to worry as his son won't fall behind and reach high due to all the teachings and upbringing his mum has given him. It's all just a matter of time.
'Khayaal' by Bambi Bains follows the tracks Retro Rarri and Duniya has also penned the lyrics, music is by Shaye a fusion of Punjabi and RnB.
Asking her the question, "Your material is indeed quite edgy and Dance-driven. Who are your biggest influences?"
'She quoted. "My biggest influences are Beyoncé, Rihanna, Aaliyah and Tayna. I am really inspired by what these artists give from all angles whether it be their unique vocal talents, their rap flows, fashion sense, stage presence and confidence. They make me feel empowered and this is the image I've always wanted to portray in my industry. No one is flying that flag for Asian females at the moment."
Kenda menu kar le tu haan
Ni sajaava teri saari duniya
Bulaava ni meh ambara tho taare
Chamkaavan aake hun tere raah
Other songs released during the month were 'Turban King' by Nirvair Pannu, 'Mahoul' by Gurnam Bhullar, 'Surrender' by Afsana Khan, '24/7' by Navaan Sandhu, 'Qatal' by Manavgeet Gill and Gurlej Akhtar, 'Befikra' by Ninja, 'Happy Birthday Yaara' by Himmat Sandhu and many more!
You can follow me at Follow @rupinder_rainer