SimplyBhangra.com Top #Bhangra Songs 'April 2021'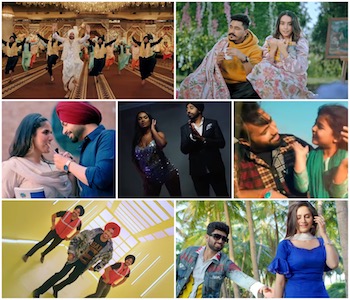 Every month we look back at the songs released in the past month so here are some of our top #Bhangra songs of April!
Shivjot releases another romantic song 'Gutt Te Naa.' The song illustrates that he has tattooed her name of his wrist and he doesn't want to lose his love and end up heartbroken, start listening to sad songs and start drinking. But how does the video end... how did she show her feelings towards him? Watch the video to find out...
Jassi Sidhu is back with a dancefloor banger 'Jatt Warga.' It illustrates where she decides to leave him however he says you can try as hard as you like but won't find someone like me. He did so many things to make her happy however she still left him.
Shree Brar releases a heart touching song 'Dheeyan' where he highlights daughters are a blessing and that he has given his everything in her arms and not let him feel like he should have let go of her before she was born. All I can say is this song is worth a listen as it has a deep meaning. At the end of the video it gives example of women that have been successful.
'Do Vaari Jatt' by Jordan Sandhu illustrates where two people love each other however this relationship is not accepted by family members. He says he loved her so much and was just as hurt and heartbroken when she left him.
Nirvair Pannu's '8 Ralde' has been penned very nicely by Jang Dhillon. A girl thinks that her marriage is not the perfect match for each other as nothing between them matches. However, throughout the song Nirvair highlights 8 points which are similar and wins her heart.
Other songs released in the month were 'Few Days' by Amantej Hundal featuring Karan Aujla, 'Majhail vs Malvain' by Geeta Zaildar and Miss Pooja
Pehredaariyan' by Himmat Sandhu, 'Hathkadiyan' by Barbie Maan, 'Munda Like Karda' by Gurj Sidhu and many more!
You can follow me at Follow @rupinder_rainer