SimplyBhangra.com Top #Bhangra Songs 'March 2021'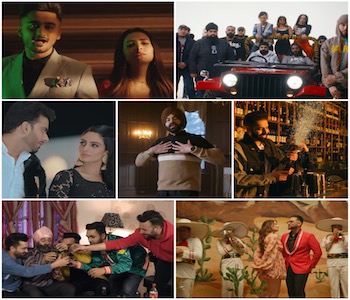 Every month we look back at the songs released in the past month so here are some of our top #Bhangra songs of March!
Moving away from the full-on gangster style tracks, Mankirt Aulakh releases 'Ali Baba' which features Japji Khaira. The song illustrates that he is well known in society that she asks him to find a jeweller whilst in jail as she would like some bangles for her birthday.
G Sidhu released his album 'Amreeke Aala.' The album surprised many as it was completely different to his first album 'Pehli Tape' which consisted of many dancefloor anthems. There is so much fresh music which consisted of a mixture of genres, some which were really touching and deep such as 'Apni Jaan (Suicide)' and then 'Berang' which featured Alaap Sikander, a style which we have not seen G Sidhu release in the past. Many are also liking the upbeat tracks 'Kappati' and 'Jinni Sohni.'
Ravneet Singh releases a romantic track 'Kala Tikka.' The track illustrates how she is so beautiful and to make sure she puts a black dot at the bottom of her ear to avoid bad luck even from the one that loves her.
'Meri hi na lag jaye nazar sohneyo
Kann thalle kala tikka laa leya karo'
Currently one of the top DJ'S who is well known for his mixes DJ Frenzy composed the music to 'Milli-1' in the vocals of Raf Saperra. The UK beat has been loved so much that it has bought back UK bhangra to the scene and a great track for the summer and party anthem with your friends!
Other tracks released during the month were 'Til Death' by Parmish Verma, 'Thand Rakh' by Himmat Sandhu, 'Viah' by Barbie Maan, 'Mutiyar' by Karaj Randhawa, 'Mexico Koka' by Karan Aujla, 'Dad Tera' by Sharry Maan and many more!
You can follow me at Follow @rupinder_rainer