SimplyBhangra.com Top #Bhangra Songs 'February 2021'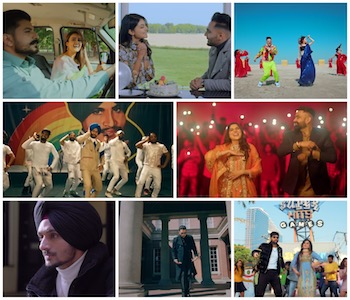 Every month we look back at the songs released in the past month so here are some of our top #Bhangra songs of February!
Amirt Maan releases the first song from his much-awaited album 'All Bamb' entitled 'Sira E Hou' featuring Nimrat Khaira where the music has been composed Desi Crew. Receiving a positive response worldwide people are eager to find out what the rest of the album will bring.
As we all know February is always the month where there are more romantic releases and this year was no different. Raashi Sood released 'Possessive', 'Love Love' by Prem Dhillon, 'Pasand Bangi by Gurnam Bhullar and Gurlej Akhtar and 'Saiyaan' by Jass Manak. Even though these are all romantic songs they illustrate a different story.
Bringing a different beat Himmat Sandhu releases 'Chamkila.' Just like the title of the track we can sense a feel of old skool vibe in the music which has been composed by The Kidd.
The 2nd runner up of Voice of Punjab 9 Sukhpreet Kaur released her single 'Majhe Aala Jatt.' The song illustrates a story where a girl regrets but still accepts her love even though when he talks business it's in a threatening way to get what he wants and be successful.
Love is genuine when regardless of what happens in life even though he is trying to forget her, the truth is he is unable to. 'Janam' by Nirvair Pannu illustrates exactly this and the lyrics have been cleverly penned by Nirvair himself. If you listen to the song you will find out it's not a typical storyline.
Other songs released during the month were 'Khandani Bande' by Amar Sehmbi, Sohne Sohne Rang by Shivjot and Simar Kaur, 'U Turn' by R Nait and Shipra Goyal, 'Hukam' by Karan Aujla, 'Gal Dil Di' by Singga, 'Bahaane' by Noor Tung and many more!
You can follow me at Follow @rupinder_rainer