SimplyBhangra.com Top #Bhangra Songs 'November 2020'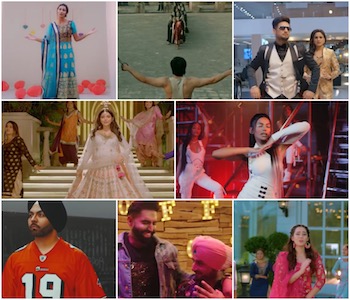 Every month we look back at the songs released in the past month so here are some of our top #Bhangra songs of November!
Moving away from pure bhangra sounds, after a long break Bambi Bains has returned and released a track with an Urban Desi sound composed by Shaye entitled 'Retro Rarri.' Earlier last month she told us that she wanted to show the audience that females have a strong position in this industry and female independence.
Over the past few months both Afsana Khan and Gurlej Akhtar are two females that have been dominating the market by collaborating with many artists to release a variety of styles of songs.
Here are a few of Afsana Khan's releases last month:
Titliaan – Harrdy Sandhu
Vailpuna – Gippy Grewal
Dawood – Sukh Mahli
Here are a few of Gurlez Akhtar's releases last month:
White Gold - Nawab
Dil Naal Salah - Sajjan Adeeb
Info - Jordan Sandhu
100 Meter - Geeta Zaildar
Pamma Jatt – Karola Maan
Nimrat Khiara's 'Gulabi Rang' is the perfect song for the wedding season. A lovely upbeat romantic song composed by Desi Crew. Love is not something easy to express in words so sometimes have to hope the other person will understand with the way he is towards her and protects her.
Poonam is well known for many cover songs she has done such as 'Peed' 'Jhanjra' and 'Supna Laavan Da.' However, she has now released her own debut track entitled 'Kadar.' The song illustrates how the woman loves him a lot and wants him however he does not respect this love which hurts her inside.
Upcoming UK singer Dilraj Brar released the track 'Yaarian' which has been composed by Jag Bancil. Dilraj is an artist that is slowly getting recognition in the industry, especially during this pandemic. He took this time to release cover tracks such as 'Punjabi Mashup 2020' and 'Illegal Weapon x London' to showcase his talent.
Other releases during the month were 'Shadgi' by Parmish Verma, 'Info' by Jordan Sandhu, 'Bol Jatt Da' by Himmat Sandhu, 'Don't Like' by Goldy and Karan Aujla, 'Mascarey Wali Akh' by Shivjot, 'End Combination' by Sweetaj Brar and many more.
You can follow me at Follow @rupinder_rainer