SimplyBhangra.com Top #Bhangra Songs 'July 2020'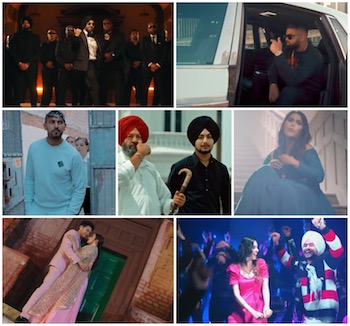 Every month we look back at the songs released in the past month so here are some of our top #Bhangra songs of July!
Garry Sandhu releases a heart touching single entitled 'Coming Home' which also features the vocals of Naseebo Lal. Imagine meeting someone you truly love after such a long time. How would you feel? What would be going through your mind?
Moving away from a romantic heart touching song to Afsana Khan's heart-breaking single 'Bazaar' which features the beautiful Himanshi Khurana and Yuvraj Hans. The story illustrates how a wife finds out that his husband is cheating on her and she becomes emotionally and mentally disturbed.
Amar Sehmbi releases 'Peo Putt' which talks about a father and son bonding and not getting influenced with the current trend in areas such as well-known expensive brands.
And the album everyone was waiting for has finally been released. I'm sure you can guess which one I am talking about...none other than 'G.O.A.T' by international superstar Diljit Dosanjh. The album showcases a lot of talent as he worked with well-known artists from different countries such as Karan Aujla, G Sidhu, Desi Crew, Gupz Sehra and many more to deliver a variety of genres of songs. It also features vocals of Kaur B and Nimrat Khaira. Which track was your favourite?
Another album was by Himmat Sandhu entitled 'Sandhu Saab.' He released the first track from the album a day before releasing the full album. Many loved the upbeat track composed by Manni Sandhu 'Laara Lappa.' We all got to see a different side of Himmat in the video compared to his previously releases.
Other songs released during the month were 'Sapni' by Ezu, 'DJ Vajda' by Miss Pooja, 'Rim vs Jameson' by It's Param, 'Ziddi Generation' by Navaan Sandhu, 'Jhanjra' by Karan Randhawa, 'Auzaar' by Satinder Sartaaj and many more.
You can follow me at Follow @rupinder_rainer