Su Real Releases Lala feat. GD 47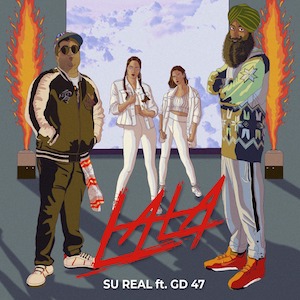 "Lala" is the first collaboration between Delhi-based DJ/producer Su Real and Chandigarh-based vocalist/producer GD 47. The track is also the first official single from Su Real's recently released Visa On Arrival album.
Credits (Music Video):
Music: Su Real
Vocals/Lyrics: GD 47
Director/Editor: Inflict

Dancers: Lady Lolita, Priyanka Ahuja, Santana Roach, Aakanksha Sehrawat, Kanika Sharma
Choreography: Lady Lolita
The duo penned the Punjabi/Hindi lyrics as an ode to all the desi ladies who party hard up in the club. GD 47 raps the verses and sings the Punjabi hook as well, while Su Real provides the music production. Featuring elements of Bhangra on top of a Dancehall rhythm that builds to a Moombahton drop, the cross-genre fusion epitomizes the trends of today and is sure to appeal to a wide variety of listeners.
GD 47 has produced and rapped on Bollywood hits like "Prem Pujari" (Drive) and is well-known in the Punjabi pop scene with releases alongside Navv Inder and Lil Golu. Meanwhile, Su Real is the winner of The Remix on Amazon Prime Video, a competition between music producers to remix the best of Bollywood. However, the two were actually drawn to each other by a mutual love of hip hop.
Impressed by GD 47's '90s flavored ode to the craft and culture of hip hop music, "Studio Ch'", Su Real reached out to him to collaborate. Over the course of 2019, the duo met up once a month, either in GD 47's Chandigarh studio or Su Real's Delhi studio. They united on a common vision of creating dancefloor-friendly music with a commercial appeal yet marked with the grit and edge of underground hip hop and EDM. This release is the first of many upcoming collaborations by the duo. In the meantime, go "Lala".
You can follow me at Follow @rupinder_rainer