SimplyBhangra.com Top #Bhangra Songs 'May 2020'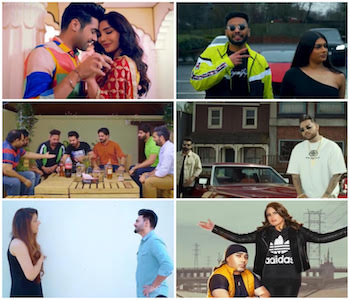 Every month we look back at the songs released in the past month so here are some of our top songs of May!
Let's say May has been one of the quietest months in terms of releases. Many not being able to shoot videos or go to music studios has led to delays in release or for now releasing their single as a lyrical video.
However, artist's such as Himmat Sandhu, Ammy Virk and Gurnam Bhullar have tried to keep the music spirit alive by giving us something different. Something one may have thought of doing but never put it out there to their fans. Artists started to post cover songs on their social media pages which bought back memories for many people.
Upcoming UK singer Deesh Sandhu released her debut single 'Lethal Eyes' alongside Kaos Productions. Both have been working very closely for at least over a year to put their passion out to an audience and provide us with something different. Even though this was Deesh's debut release she has been performing at many events in the past which created a mark for her in the industry.
Prabh Gill releases such a lovely romantic track 'Desire' alongside Raashi Sood. Both artists are great with this genre of songs. The feeling both artists bring in the song allow people to easily connect.
Navaan Sandhu has proved to be a growing successful artist. He has worked with artists such as Manni Sandhu to give us back to back hit tracks. His new track '2 Asle' has be composed by Jeffrick and proved to be another one which is great to play in your cars and move with the beat.
Other songs released during the month were 'Knock' by Himmat Sandhu, 'Main Suneya' by Ammy Virk, 'Keh Gayi Sorry' by Jassie Gill, '97 De Yaar' by Kulwinder Billa, 'Let 'em Play' by Karan Aujla, 'Tere Karke' by Guri and many more!
You can follow me at Follow @rupinder_rainer