Catching up with G Sidhu!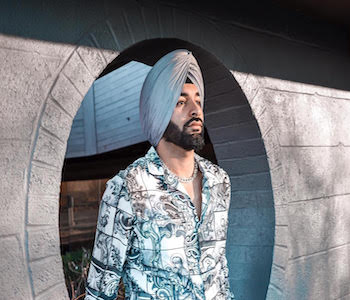 American artist G Sidhu so far has had a very successful journey. Obviously all this doesn't happen over night, a lot of hard work and years of working behind the scenes is necessary.
His album 'Pehli Tape' showcased a lot of different genres of music to reach different audiences. It also made him create an unique niche in the industry. After the album he also released 'Delete' alongside Amar Sandhu and 'Punjabi Munde' with Fateh.
But what is it about G Sidhu that his songs became so popular worldwide which lead him to becoming well known globally within a short period of time.
As many would agree the whole package of a song from the lyrics, the music, video and the singer must work well with each other to produce a unique and successful outcome.
Its not all about choosing the current top artists in the industry and directing high budgeted videos.
Being an independent artist taught me that it is not really about the budget in terms of producing quality videos or production, but creativity. With unlimited budget, I would hire lots of creative minds to create something exciting.
Alongside being a supremely talented vocalist, he is also a great song writer. We asked G Sidhu 'For you personally what does the song writing process entail? Do you have to be on your own, or can you pick up a pen and write wherever you are?'
I consider myself a vocalist first. I got into writing because I was not able to relate with songs written by other writers to sing for myself, or if we reached renowned writers, we did not get their best work due to being new in the game at that time. I don't consider myself a good writer but I do enjoy the process and am trying my best to learn about it on daily basis.
Writing lyrics seems to be an important part of what G Sidhu is as an artist. You definitely get a feeling that you are really into the song and start going through the motions when you are singing. We asked 'Do you feel comfortable singing songs that you don't necessarily relate to, or had any input towards?'
Yes, I have learned over time how to feel comfortable singing songs that I may not relate to by adding my own touch. At the end of the day it is about the emotion that your are trying to portray whether it is factual or fiction based. I would not however sing a song that may not align with my principle and morals.
Many Bhangra artists/producers have had mainstream success with their distinct styles. With the industry rapidly changing where do we see the industry in the next decade? Can a bhangra artist/producer still be at the top of his game without going mainstream?
You don't have an identity without the roots. Bhangra music will always be the backbone. Now what exactly do we mean by "Bhangra artists", thats a debatable term. Overall, one must learn how to adapt and innovate to stay fresh.
We would like to thank G Sidhu for taking time out to talk to us and wish him the best with his future projects.