SimplyBhangra.com Top #Bhangra Songs 'March 2020'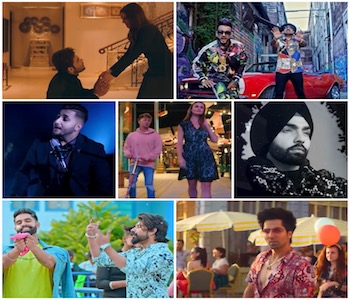 Every month we look back at the songs released in the past month so here are some of our top songs of March!
In the past Ninja has released many sad emotional songs which touches the heart and for many the story may be true. I would say his strong powerful voice has a real impact on the song and the way it connects with the audience. He again releases an emotional heart-breaking song entitled 'Chor' where a man cheats of his wife even when she loves him deeply and then he realises his mistake before it too late.
Many have gone through a time where the person they love the most has broken their heart but they always remember them, however you forget the ones that truly showed their love. Ammy Virk's song 'Tod Da E Dil' illustrates this through a lyrical video.
Recent Indian Idol contestant and a huge fan of Alia Bhatt, Rishabh has teamed up with Manj Musik for an upbeat track entitled 'Teri Photo' where a guy falls in love by looking at girl's photo.
Another emotional song was released by Khan Saab 'Kinna Kardi Tera' from the album 'Fresh Side Vol 1.' The song illustrates how a girl automatically started caring and having a special feeling for the one she loves and does not realise when and how this all happened. Now this is what I call love without conditions.
Harddy Sandhu releases a track perfect to play in that sunny weather entitled 'Jee Karr Daa.' When watching his videos which are always very bright and entertaining they get you in the mood to dance and liven up the atmosphere.
Other songs released during the month were 'Jab Hum Padheya Karte The' by Parmish Verma, All Eyez On Me' by Jazzy B ft Roach Killa, 'Hawa' by DJ Rags ft Rani Randeep, 'Behja Behja' by Saini Surinder and many more!
You can follow me at Follow @rupinder_rainer