Dj APS Views on The Current Music Industry!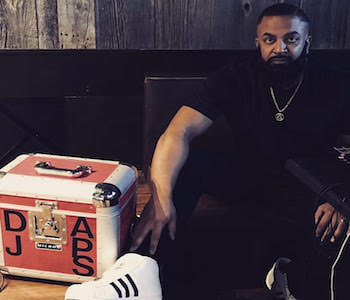 We caught up with DJAPS to ask about his views on the music industry.
DJAPS started his music career in 1994 creating ground breaking mixes, original production, rap vocals that have attracted global attention, and continues to DJ worldwide! DJAPS has released a number of albums and countless singles throughout the years that still rock the dance floors.
He has travelled from Australia, India, England, and all over North America to perform.
A lot of Bhangra artists/producers have had mainstream success with their distinct styles. Where do you see the industry in the next decade? Can a bhangra artist/producer still be at the top of his game without going mainstream?
Wow that's a good question. I believe you can make a career without going mainstream, I have. My love for music is too powerful.... now I'm not saying I quit trying but when your passion is so strong you don't worry about anything else. Our community and our Bhangra scene is huge, it's worldwide, I've seen it and travelled to all different parts of the world to Dj.
Far as crossing over I would use PMC as an example when he collaborated with Jay Z, now those are special moments, but it all comes back to do doing Bhangra and music from the heart and we get to share that with the world.
So it's a beautiful thing knowing we have option to further our music when we can outside of our community. I will never stop chasing my dreams, I'm open to producing all forms of music and continue to do so.
There's been a lot of discussion lately regarding the industry and its perceived lack of creativity; do you think the problem lies with artists, or to audiences who should be demanding more?
The creativity in the music has died down a lot, new upcoming producers need to Keep in mind to be original and creative, and that's the truth. Producers keep using the same old AS Kang "Ghidde De Rani" beat.
It's been a horrible experience trying to listen to Bhangra when it all sounds the same with random singers on auto tune with a unnecessary video with paid YouTube hits. I can't even watch or listen to 5 seconds of it. That is NOT how you release music and they know it themselves.
The ones who will last are the ones keeping it original and fresh. The problem is everyone is using the same programs, same instruments, same flow, same drum patterns etc, it's got to stop. I may sound old and angry but the music today is shit. They need to get inspired, find their own identity and not do what the other producer is doing, stop kissing social media ass with likes and shares and start making some original music, find ourself now or you will not last.
With so many young producers stepping up these days do you think that the future of Bhangra is in good hands? Or do you feel that a lot of people are rushing in too early without fine-tuning their production skills thereby having the risk of fading too soon?
As long as the old legends are still around we will be ok, but they won't be here forever. Just to name a few, upcoming Producers should to look and listen to Tru school, Aman Hayer, Shinda, Zeus, PMC, who keep it 100% traditional and keeping the culture alive, if all we are going to do is trap beats with Punjabi vocals on top of it than we are screwed. It's not about adapting to the times, it's about making original music.
We need more dhol and Tumbi back in our music, and more dance breaks in the songs, you know that feeling you can't describe? That emotion of something so new and fresh that made you love music in the first place? make and create that!! Now I'm not saying stop doing what you're doing, I'm just saying have variety and study the history.
People are so quick to judge saying oh Jazzy B is old, why is he still doing it, or all that APS is does is remix, he can't even rap, but can you do it? I don't think so!
Music has no age limit or an expiration date, it just had to be good and from the heart.
Facebook: djapsremix
Instagram: djapsremix
You can follow me at Follow @rupinder_rainer