SimplyBhangra.com Top #Bhangra Songs 'October 2019'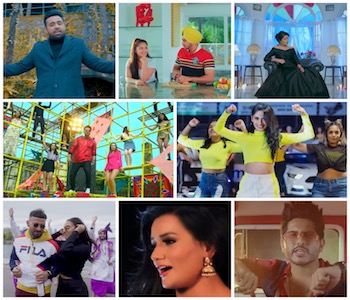 Every month we look back at the songs released in the past month so here are some of our top songs of October!
Previously Rohanpreet Singh has participated in singing shows however since being a contestant in 'Rising Star 1' Rohanpreet has become more confident and made a mark in the industry. He recently released the track 'Hello Hi' where a girl is trying to tell the guy he has changed it different ways and one way is that he talking to a lot of new girls and not paying much attention to her.
Raashi Sood released her next single 'Jaan Wale' where the lyrics have been penned nicely by Navi Ferozpurwala. The song illustrates how the person you loved more than your life and always thought about gives you the most pain.
Navneet Maan is a new artist in the industry. Entering the industry last year with the track 'Dariyaan' after a long wait she has now released 'Geet Goreyan De.' The track illustrates how a Punjabi life partner would be the best for a Punjabi man in comparison to others.
Gupz Sehra releases 'Delete' which is an emotionally sad track because when a relationships brraks with the women which he loves the most, it is hard to completely part away from her forever. He wants to keeps in contact with her one way or another.
Garry Sandhu released two tracks this month first with 'Like U (Tere Jaisi)' which praises a girl for how she is and that there is no one else like her. And secondly 'Bottle' which is very different to the first track however portrays a similar but not exact storyline.
Desi Crew have started releasing tracks from their album 'Desi Crew Vol 1.' The first song was 'Aukaat' by Jassie Gill ft Karan Aujla.
Other songs released during the month were 'Jail 2' and 'Jatta Ve' by Mankirt Aulakh, 'Peg Nachda' by Jass Bajwa, 'Naan' by R Nait, 'Koka Piece' by Harsimran, 'Putt Jatt Da' by Rajvir Jawanda, 'Warning' by Karaj Randhawa, 'Pitbull' by Badal Talwan ft K S Makhan and many more!
You can follow me at Follow @rupinder_rainer