Kuwar Virk Views on The Current Music Industry!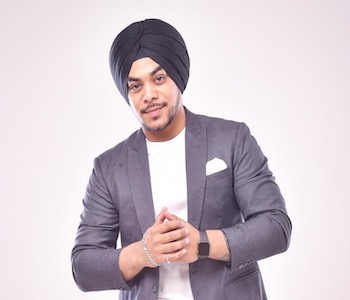 We got the opportunity to catch up with Kuwar Virk to get his views on the current music industry.
Kuwar Virk has had opportunities to work in both the Bollywood and Punjabi music industry.
In Bollywood Kuwar has programmed the well-known hit song 'Chittiyan Kallaiyan' from the film 'Roy' and sang 'Malamaal' for the movie 'Housefull 3' alongside international superstars Mika Singh, Akira and Miss Pooja.
In the Punjabi music industry whether as a singer, music producer or lyricists, he has contributed to many hit songs such as 'Miss Karda' by Jazzy B, 'Kangna' by Preet Harpal 'Lakkpatla' and 'Sirra Jatt both which he has sang.
Writing lyrics seems to be an important part of what you are as an artist, you definitely get a feeling that on tracks that you are really into the song and going through the motions when you are singing. Do you feel comfortable singing songs that you don't necessarily relate to, or had any input towards?
I don't feel comfortable singing songs that don't relate to my interests. You have to hear all my songs, I make music that people can enjoy and dance. I like making music that people listen to and forget all their worries. If they are spending money to come see me, I want them to have an unforgettable experience that all can enjoy.
You've just been signed up to Simply Bhangra records and we've given you an unlimited budget for musicians, producers and One mega high budget video set anywhere in the world. Who would you choose to work with and where would you pick to shoot that video?
I myself would be the artist also the production of the music and lyrics will be mine. I would make a song that appeals to the urban market and also to Punjabi folks. I would make a video to represent my traditional heritage in an urban way so that the new generation doesn't forget where they came from. The location will be in India and city will be Punjab.
Alongside being a supremely talented vocalist, you are also a song writer. For you personally what does the song writing process entail? Do you have to be on your own, or can you pick up a pen and write wherever you are?
No special process in it, it's just a feeling which I pen down and mostly I observe things from the public. That's all I do.
A lot of Bhangra artists/producers have had mainstream success with their distinct styles. Where do you see the industry in the next decade? Can a bhangra artist/producer still be at the top of his game without going mainstream?
I think in ten years Punjabi music will gain more exposure as we have seen so far. Of course, a bhangra artist and producer could be on top even if he doesn't go mainstream.
Thank you Kuwar for your time and all the best for your future projects.
You can follow me at Follow @rupinder_rainer