Diljott Views on The Current Music Industry!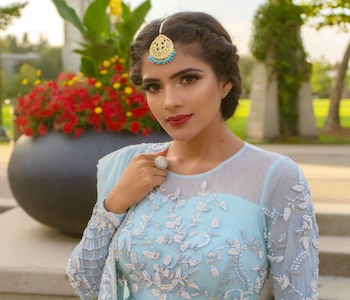 We got the opportunity to catch up with Diljott to ask about her views on the music industry.
Young actress and singer Diljott very early in her career featured in a song with international Punjabi singer Diljit Dosanjh for 'Patiala Peg.' After this song we could say this has given her an even bigger identity.
She is currently working on a Punjabi film entitled 'Khatre Da Ghuggu' alongside her co-stars Jordan Sandhu, BN. Sharma and more. The film has been directed by Shivtar Shiv & Aman Cheema. Much information has not been released but watch this space.
You've just been signed up to Simply Bhangra records and we've given you an unlimited budget for musicians, producers and One mega high budget video set anywhere in the Who would you choose to work with and where would you pick to shoot that video?

I believe if there is this kind of hypothetical situation, we would love to create and make a sequel to 'Patiala Peg' song with Diljit Dosanjh and myself featuring in it again. The song is evergreen and still loved all over and has gained lot of acclaim and recognition all over.
So it would be great to recreate the charm and magic again and it would be wonderful to shoot it in Punjab, showcasing the beauty, richness and diversity of Punjab.
A lot of Bhangra artists/producers have had mainstream success with their distinct styles. Where do you see the industry in the next decade? Can a bhangra artist/producer still be at the top of his game without going mainstream?

Yes an artist is an artist whichever field is he/she in. Everyone is blessed with a different talent and Bhangra artists are immensely talented and portray their own distinct styles, which is worth appreciating. The industry is presently doing well too and I am sure with so much talent around and people opting for such field, it is on the progress everyday.
Yes why not, I believe every artist needs to believe in himself/ herself and create a niche in what he/she is doing presently and whether he/she goes into the mainstream is altogether different. They can earn a lot of respect and admiration and popularity in putting in best to whatever they are doing.
There's been a lot of discussion lately regarding the industry and its perceived lack of creativity; do you think the problem lies with artists, or to audiences who should be demanding more?
Firstly, I believe that the Industry is experimenting more, is much more creative than it used to be and is putting in new and unique ideas. I personally nowhere feel that there is any lack in the creativity as different kind of work is being generated catering to different sections all together and teams trying their best to come out and work on diverse subjects and that is being recognised all over internationally as well.
I send my wishes to the industry for doing that. It's always great to have an audience who wants newness in the projects, which motivate teams to work beyond their imagination.
Keep supporting the artist you like & encourage newer artists by listening & appreciating their music. Thanks SimplyBhangra for your support #Respect
You can follow me at Follow @rupinder_rainer