SimplyBhangra.com Top #Bhangra Songs 'September 2019'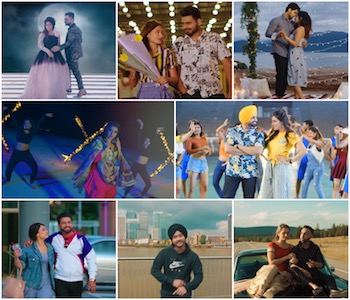 Every month we look back at the songs released in the past month so here are some of our top songs of September!
Master of romantic songs Prabh Gill released 'Love You Oye.' It's not always easy to express feelings especially when is about love. You never know what's going on inside the other person. When a man finds it hard to express his feelings in words he does everything to make her happy as a gesture to express his feelings.
'Oh jind maahi love you oye
Oh jind maahi love you aa tere naal'
Few months back everyone got a sneak peak of Jasmine Sandlas's song 'Chunni Black.' As soon as people heard the track they eagerly waited for the video. And finally, after months and months of waiting the video finally released.
'Chunni Ni Black Teri,
Jaan Sadi Mangdi.'
'Pagal' by Gurnam Bhullar shows the excitement one will feel once they get the love of their life. Finally, when things fall in place and couples think of the future and how to fulfil goals together is a whole new feeling.
'Main Kitte Pagal Na Ho Jawaan
Jis Din Tu Meri Howengi'
Miss Pooja releases a song where she shows she loves her man however thinks he doesn't show the same in return. A man would never want her to think this way again and shows his feelings to her. Take a listen to 'Sohnea 2.'
'Oye taanhi tera dil lagdae
Hoye taanhi mera lagdae ee nai'
The romantic lyrics to 'Jattiye Ne' by Jordan Sandhu have been penned extremely well by Arjan Virk. It illustrates that even though many girls are falling in love with one guy in particular, the guy only loves one girl and she should feel lucky.
'Chunke Tu Lai Gayi Chobra Cho Gabru,
Jattiye Ni Apne Tu Bhaag Dekh Lai'
Other songs released during the month were 'Tu Hi Ah' by PropheC, 'Jatt De Star' by Himmat Sandhu, '2AM' by Karan Aujla, 'Khandani Munda' by Geeta Zaildar, 'Ishq Tera' by Guru Randhawa and many more!
You can follow me at Follow @rupinder_rainer