SimplyBhangra.com Top #Bhangra Songs 'August 2019'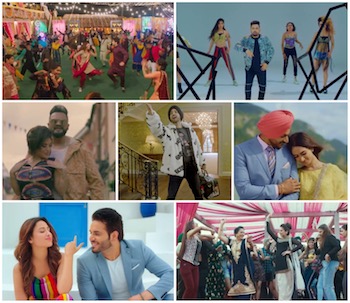 Every month we look back at the songs released in the past month so here are some of our top songs of August!
Diljit Dosanjh never fails especially when it is a desi dancefloor Punjabi banger. Songs are mostly illustrating how long it takes for a woman to get ready, whereas Diljit has turned the story and illustrated it takes time for guys with style to also get ready with Muchh!
Karaj Randhawa's 'Yaari' is such a beautiful romantic track penned by Prince Rakhdi. It illustrates how two people love each other but there are times when the guy is slightly over protective but the girl still loves him and will not leave him.
Gupz Sehra didn't want to keep his fans waiting for too long between his tracks therefore released the 'Old Skool Mashup' and then shortly after released the track which people were eagerly waiting to listen to entitled 'Lak Di Care' presented by E3UK Records. Both tracks being dancefloor anthems were extremely successful.
Gurj Sidhu is releasing hit after hit and without a doubt there will be many more in the pipeline. Working with Kaos Productions on many occasions for tracks such as 'Yaad Kar' and 'Patta Lagg Ju,' they have recently collaborated again and released 'Bass Baliye.'
Rajvir Jawanda's 'Dream' is a wonderful romantic song with a lovely music composition by Mix Singh. It shows how a girl dreams about a guy and makes her feel even more happy. She wants him to take her away and starts to imagine her marriage and how she would spend her life with him.
Musically last monthly was mainly focussed on filmy Punjabi songs from movies such as 'Surkhi Bindi' featuring Gurnam Bhullar and Sargun Mehta and 'Naukhar Vahuti Da' starring Binnu Dhillon and Kulraj Randhawa.
Other songs released during the month were 'Relation' by Nikk, 'Rang Di Pakki' by Goldy, 'Paranda' and 'Star Kalakaar' by Himmat Sandhu, 'Closer by Mickey Singh featuring Dilpreet Dhillon and many more!
You can follow me at Follow @rupinder_rainer