Eternal Taal female dhol drummers chosen as official drummers for Bharat Army!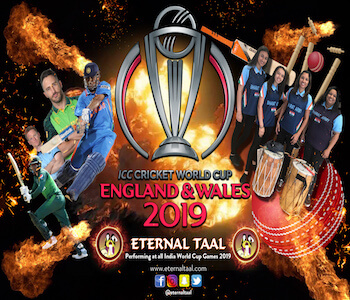 UK's first female BhangraEntertainments team is currently preparing to dazzle the cricket grounds up and down the country with their unique and exhilarating performances throughout one of the most awaited event of the year, ICC World Cup 2019.
In 2017, Eternal Taal Female dhol drummers first performed for the ICC Trophy at the India Vs Pakistan cricket match. They thoroughly enjoyed celebrating the 6's, 4's, the wickets and the general atmosphere amongst the crowd. Eternal Taal spent the whole match continuously lifting the mood of India supporters. Where playing the dhol for hours on end would tire out anyone, the young females only wanted to keep playing – encouraged by the unity and love demonstrated by the supporters in the stands. Eternal Taal wanted more, supporters wanted more and mostly, The Bharat Army wanted more. It then, only confirmed the attendance of Eternal Taal for the 2019 Cricket World Cup held in England.
The team has performed for an array of clienteles and showcased their talent on a variety of platforms for over 20 years, ranging from Channel Four, to Glastonbury Festival and to one of the most memorable highlights of performing for Bollywood, the largest film industry in the world. When asked about the whole cricket experience in comparison to any other, the manager of Eternal Taal, Parv Kaur said, "The adrenalin rush is crazy during a match and we thoroughly enjoyed ourselves last time, so when the opportunity arose to do it again for the cricket world cup this year, we agreed to do it in a heartbeat. Every performance is different and amazing in its own way and we can't wait to pump up stadiums full of India supporters with our performances."
When asked to comment on Eternal Taal's involvement this year, The Bharat Army stated, "We collaborated with Eternal Taal in 2017 during the Champions Trophy. As the UK's first female Dhol playing group, we felt they would bring something fresh and different to the stands. We received fantastic feedback and made sure they were part of the Bharat Army for the #CWC19".
Parv Kaur and her team will be starting their World Cup journey on the 15th June in Manchester, on the eve of the India Vs Pakistan celebrating 20 years of Bharat Army. Catch the team performing for all the India matches, supporting and enjoying what the India cricket team has ready for their opponents.
On all social media @eternaltaal
You can follow me at Follow @rupinder_rainer