SimplyBhangra.com Top #Bhangra Songs 'May 2019'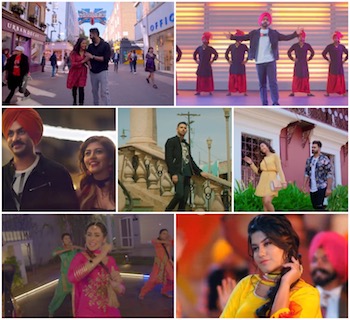 Every month we look back at the songs released in the past month so here are some of our top songs of May!
Let us start off by talking about Punjabi film releases. Firstly, the much awaited 'Muklawa' starring Sonam Bajwa and Ammy Virk received an overwhelming response not just in India but also worldwide. Every song has been loved so much from 'Jutti' to the romantic track 'Wang Da Naap.'
The film is based on how marriages used to happen back in the past... maybe even before your parents were born. After watching the film, I think there are many out there now thinking how can one stay away from their partner for so long.
'Dil Diyan Gallan' was another film released during the month starring Parmish Verma and Wamiqa Gabbi. The romantic film won many hearts. Here Parmish entered another line within the industry and as well as directing he also wrote the film alongside Uday Pratap Singh.
Rajvir Jawanda has now entered the acting scene with his debut film 'Jind Jaan' alongside Sara Sharmaa which will be releasing later this month. Tracks are slowly being released for film promotion starting off with a romantic track 'Sari Sari Raat' by Rajvir Jawanda and Mannat Noor.
Jenny Johal released the track 'Matha Matha.' It illustrates when a group of boys are having a get-together and drinking and then are terrified to go back home. Therefore, they end up sweet talking their partner knowing fully well what their wife's reaction will be.
'Dolda Pyaar Meethi Meethi Aakh Ke
Lagda Ae Matha Matha Layi Firde'
Kaur B's recent release 'Taur Jatt Di' illustrates a man's style and how everyone is the village is talking about this. There is no need to show which branded clothing one is wearing or carry things which make them look like a gangster or tough as his own natural style is more than enough.
Jaz Dhami releases a very touching sad romantic song entitled 'Kai Saal.' As mentioned in previous articles Jaz Dhami is a one of a kind. Music of his own style which not only surprises everyone but takes a risk to provide something new and fresh.
Other songs released during the month were 'Gabhru Faridkotia' by Roshan Prince, 'Jatt Fattey Chakk' by Amrit Maan, 'Take Off' by Garry Sandhu and Gurlez Akhtar, 'Teri Marzi Aa' by Prabh Gill, 'Hon Wala Sardar' by Rajvir Jawanda and many more!
You can follow me at Follow @rupinder_rainer