Bharat Ke Saath-The Largest Indian Cricket Fan Gathering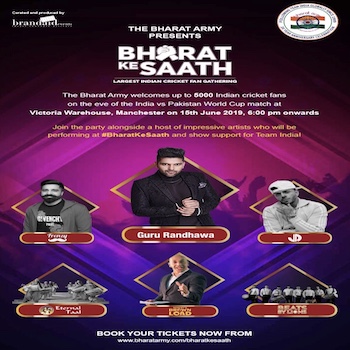 Bharat Army 20 Year Anniversary Celebration on the eve of the India vs Pakistan ICC Cricket World Cup group match in Manchester featuring Guru Randhawa, Juggy D, DJ Frenzy, Eternal Taal & Beats by Lions
Join us as we celebrate 20 years following Team India around the world with top Indian DJ's, Music Artists and Performers for the largest Indian Cricket Fan gathering ever!
This event is only for Indian Cricket Fans
 5000 Indian Fans
 Top Indian DJs
 Bollywood Celebrities
 Sporting Legends
 Industrial Tycoons
So why wait? Book your tickets now to be part of this event on 15th June 2019 at Victoria Warehouse, Manchester.
You can follow me at Follow @rupinder_rainer