Urban Desi Events presents Great Summer Bash!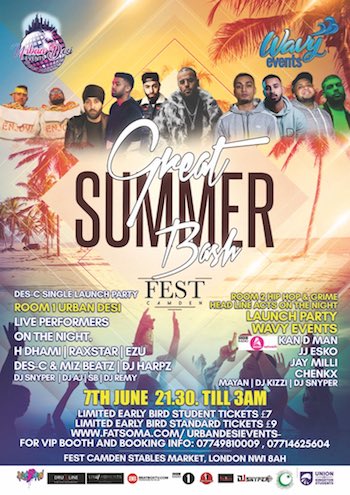 Urban Desi Events presents: Great Summer Bash!
Friday 7th June 2019
Time: 21:30 – 03:00
Venue: Fest Camden FEST Camden Stables Market, London NW1 8AH
IT's BACK: GREAT SUMMER BASH
x Glitter Confetti Blasts
x 3 AM FINISH!
x13 ACTS WITH SURPRISE GUESTS ON THE NIGHT!
ROOM 1: HEAD LINE ACTS ON THE NIGHT!
★★ EZU ★★( PERFORMING LIVE ON THE NIGHT)
★★SB OFFICIAL
★★DJ SNYPER ★★RESIDENT DJ
★★DJ AJ
★★DJ REMY
★★LIVE DHOL BY DRUMLINE ENTERTAIMENT.
★★MYSTERY GUEST PERFORMANCE
ROOM 2 HIP HOP & GRIME (WAVEY ROOM 2 ) ► HIP HOP , RNB , GRIME, DANCEHALL, BASHMENT & AFRO HEAD LINE ACTS ON THE NIGHT!
★★JJ ESKO
★★JAY MILLI
★★CHENKX
★★KAN D MAN ( BBC ASIAN NETWORK & BBC RADIO 1XTRA)
★★MAYAN
★★DJ KIZZI
★★DJ SNYPER
★★ Tickets & Entry Info★★
★★ EARLY BIRDS ONLY £7 (STUDENT ONLY!!)
★★EARLY BIRDS (STANDARD TICKET) ONLY £8 ONLY!!
★★LIMITED VIP (Includes Q-Jump on Arrival!) - ENTRY & EXCLUSIVE ACCESS TO THE VIP BOOTH
►'VIP Booth -Dedicated Wristband Access ONLY!
★★★Celebrating a birthday?★★★
★★★FREE ENTRY & Q JUMP FOR GROUPS! TXT '07749 810009' with 'URBAN DESI BIRTHDAY' & one of our team will get in touch! BOOTH- THERE IS LIMITED BOOTHS AVAILABLE AT THIS EVENT, THESE MUST BE BOOKED & CONFIRMED WITH URBAN DESI ONLY
★★★TO ENQUIRE ABOUT A TABLE TEXT 'URBAN DESI BOOTH' TO 07749 810009 FOR MORE INFO! TABLES ARE SUBJECT TO A MINIMUM SPEND NOT INCLUSIVE OF ENTRY - TICKETS ARE ADDITIONAL TO THIS!
★★Conditions of Entry★★ VALID ID REQUIRED (Driving License or Passport) - MRRA - NO REFUNDS ON BASIS OF INTOXICATION, ANTISOCIAL BEHAVIOUR OR FAILURE TO CARRY PHYSICAL PHOTO ID, STUDENT TICKETS REQUIRE VALID STUDENT ID!! FAILURE TO PRODUCE ID MAY RESULT TO REFUSED ENTRY. Dress code - Smart Casual, Trainers ok (NO air bubbles) - Strictly NO tracksuits - NO hoods OR caps (Large Groups of Males May Be Refused Entry)!! NO REFUNDS!! - Management Reserve The Right of Admission! STRICTLY AGES 18+
★★TICKETS AVAILABLE VIA★★
WWW.FATSOMA.COM/urbandesievents-
INFORMATION HOTLINES: 07749810009 / 07714625604
You can follow me at Follow @rupinder_rainer