SimplyBhangra.com Top #Bhangra Songs 'April 2019'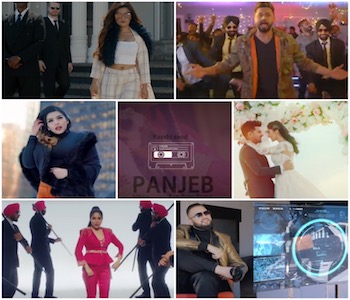 Every month SimplyBhangra.com looks back at the songs released in the past month and It has definitely been a steady April in terms of music releases compared to other months. Here are some of our top songs of April 2019!
There has recently been an increase in the number of artists from India collaborating with international artists. Another one to add to the list is Kaur B and UK music producer Hunterz where they released 'Like U.' This international collaboration gave a modern touch to the music/video.
Another one to mention would be music producers from the UK Team B and from India Desi Crew that teamed up together and composed the music to 'Datt Patt Da' by Roshan Prince. With a catchy beat it is a track for all them boys/men having a great night out!
'Mukar Gyi' is something new and fresh from Gurj Sidhu which everyone is loving with a modern video and catchy lyrics penned by Sukh Sandhu. Unfortunately, in this modern society there are some people who have experienced what the song is illustrating.
Jass Manak released the video to the track 'Viah' taken from his album 'Age 19' which released in February this year. Many people like to stay up-to-date with fashion and trends to impress. However, there are some people out there who like to find a life partner who is nice and simple. So how does this song illustrate this? Take a listen and you will know exactly what I mean.
One of Raashi Sood's strongest genres is romantic, where she never fails to deliver and receives an excellent response. With a soothing delicate voice, she releases a lyrical video to her next single 'Panjeb.' I would say if you are a woman and in love or getting married it is definitely a song you should listen out for.
Couples out there always have little arguments and then eventually hours later patch up. Neha Bhasin releases 'Meri Odhe Naal' illustrating this situation.
Other songs released during the month were 'Hollywood' by Mankirt Aulakh, 'Waake' by Gurnam Bhullar, 'Sone De Dand' by Himmat Sandhu, 'Bach Ke Reh' by Rupinder Handa and many more.
You can follow me at Follow @rupinder_rainer