SimplyBhangra.com Top #Bhangra Songs 'March 2019'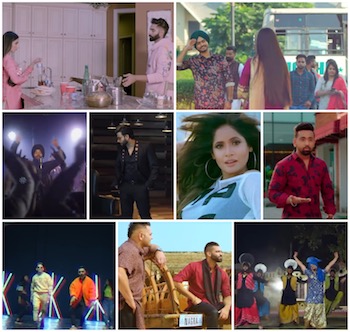 Every month SimplyBhangra.com looks back at the songs released in the past month and giving you some of our top songs of the month. Here are some of our top songs of March 2019!
Gupz Sehra has released many tracks all which have been loved very much. However, since the release of 'Label black' it seems like 'Seat' was the next big hit for Gupz. Being a catchy upbeat track, it is definitely one for the dancefloor! How many of you think your partners have turned from being romantic to saying:
'Ho jedi seat utte pehla tu behndi si,
Osay seat thalley botlan ne rendiya'
Benny Dhaliwal and Harj Nagra have worked many times in the past for tracks such as 'Jatt Da Recaard' and 'Range Rover.' They have teamed up again for the track 'Range Wala Jatt.' Benny's likes to stay away from what's current in the market and releases something which makes his songs stand out from the typical sounds people are currently listening to.
Bringing back the past to the present is always something which people look forward to. UK singer JK who always releases a banger this time releases a wedding anthem 'Bhabieh' produced by Tru-Skool, which will get everyone on the dancefloor.
Parmish Verma released 'Ja Ve Ja' where the chorus which was penned by American artist G Sidhu was very catchy and fans starting sending videos during the promotion hoping they may be selected to be in the video:
Ja Ve Ja Ve, Jaa Jaa Ve Patandra
Teriyan Gallan Ch Aage Mera Hi Kasoor Ae
Miss Pooja and DJ Dips previously worked in the tracks 'Gerra De De,' and 'Pasand' and have now released 'Fishcut'. She has recently started to give songs a more modern touch with a modern video and beat, previously in 'Tu Meri Care Ni Karda' and now 'Fishcut.'
American and UK artists collaborate together for G Sidhu's 8th and final track from his album entitled 'Pehli Tape.' He told us:
'This is the only track that I did not write myself, but it did capture in a snapshot what i've been through in my life.'
The track has been written by Amarjit Dhami and music composed by Kaos Production both of which are from the UK. You will find it is very different from the other tracks in the album which are all romantic in their own way. If you have heard his previous songs you will know exactly what I mean. This album is definitely one to listen to!
Bups Saggu continues to release a new song every month as announced at the beginning of the year. He teamed up with the Punjabi singer who sang 'Kurta Pajama' and 'Miss Kardi' RS Chauhan to release a dancefloor anthem 'Favourite Rang.' Bups is an artist that gives artists the opportunity to become even bigger internationally as his songs are always a hit and heard worldwide!
'Ho bhawein favourite rang ae black ni,
Par dil de na kale balliye'
Other tracks released during the month were 'College' by Mankirt Aulakh.
'Sandal' by Sunanda Sharma, 'German Gun' by Amrit Maan featuring DJ Flow, 'Mithi Mithi' by Jasmine Sandlas and Amrit Maan, 'Bodyguard' by Himmat Sandhu, 'Nachna Ni Ohnda' by PBN and 'DJ Te' by Shipra Goyal.
You can follow me at Follow @rupinder_rainer