SimplyBhangra.com Top #Bhangra Songs 'February 2019'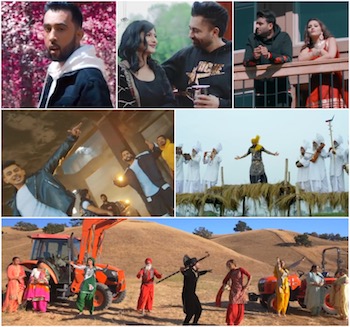 Everyone knows during the month of February, romantic songs are at an all-time high! So here are some of our top songs of the month.
What can I say about PropheC! He didn't release one or two tracks but a whole album (The Season) on songs you can connect to emotionally. Even though the songs are mostly on the romantic or emotionally sad side the music to each song is different which suggests it reaches different audiences.
Even though we hear that in today's generation people are more aware of equality between men and women, this may not be the same when it comes to being at home. It may still be the women dominates in the kitchen. ' Naukar' by Sharry Mann meaning servant illustrates this very well where the husband orders his wife to bring things like he is a King.
And you can imagine what the wife must be thinking... 'I am not your servant this is also your house.'
The legend the Late Surjit Bindrakhia's songs are still loved today by all generations and remaking one of his songs is a massive risk. Several questions are raised... Will it reach the exceptions of the audience? How will people compare the new and old version? And if the Late Surjit Bindrakhia's own son sings one his father's hit songs will people start comparing father and son?
Well, one thing for sure Gitaz Bindrakhia's 'Yaar Bolda' got people on their feet! Many people may say this is what you call a successful remake! The trailer itself got the audience excited and if you haven't already watched the video the beginning is so touching.
If you follow Laddi Chahal on social media and have heard him singing live you will know his vocals are very strong where if he sings the correct style of songs he may be able to reach a wider audience not just in India but internationally.
His debut track 'Habit' is a track which he sang a few years back however not released it until now! This was not due to any doubts but it is the way his team scheduled the song taking into account other projects they were working on.
There are many youngsters in today's generation that do not understand or speak their mother language. This is not a good sign for future generations. What will we be able to teach our children?
Jazzy B releases 'Maa Boli' where it illustrates for us to remember our mother tongue and not to forget our Punjabi language.
'Mithi Boli Rangle Punjab Di
Punjabi Oh Punjabi Yaad Rakhiyo'
Other songs also released during the month were 'Bas Kar' by Mankirt Aulakh, 'Viah Wali Jodi' by Resham Singh Anmol, 'Sugar' by Bups Saggu, 'Jatti Di Pasand' by Vikrant Thind, Jass Manak released his abum 'Age 19' and many more.
You can follow me at Follow @rupinder_rainer