SimplyBhangra.com Top #Bhangra Songs 'January 2019'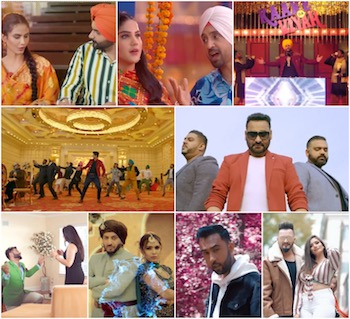 Looking back at the month of January it has been a quiet period for the UK music market compared to the last quarter of 2018. Music from India has again dominated.
The 'Crown Prince of Bhangra Jazzy B' released a banger with 'Udhne Sapoliye.' This track really brings back the old Jazzy B and the style of songs he previously sang not just through the music composition by Jassi Bros but also through the video which has been directed by Rimpy Prince.
Gurnam Bhullar, an artist that has grown tremendously over the past 2 years, collaborates with UK artist PBN for the first time and brings a dancefloor banger P.K. The track illustrates how arguments are created between partners. Even though you may think you have heard many tracks like this however the lyrics to this track can be related to many women.
How is this? Well, check out the track ...
With an extremely quiet 2018, Nachattar Gill is back and this time round released a romantic track 'Pehla Pyar' presented by E3UK Records. A slow delicate music composition by Ambi & Dilly and beautifully penned lyrics by Bhinder Khanpuri, it is a perfect track to listen to especially as Valentine's Day is approaching or are thinking of/getting married.
PropheC returns with 'Where You Been' Many would be able to listen to a PropheC song and instantly know it's by him. Why is this? That fusion of English and Punjabi is something which Prophec combines extremely well and makes each segment of the song stand out.
Gurj Sidhu who has become more popular over the past few years released 'Baby.' Just like PropheC, Gurj is an artist that likes to stay away from using the typical music compositions and lyrics and wants to stand out from the crowd and create a mark in the industry so people can say this is a Gurj Sidhu track!
Check out what he had to tell us about this track: HERE!
Many albums were released in 2018, two of those which were Diljit Dosanjh's 'Roar' for which he released the second video entitled 'Thug Life' and the other from Sidhu Moosewala 'PBX1' entitled 'Im Better Now.'
Film promotions are back on a roll and with 2 Punjabi films which released on 1st February 'Kaake Da Viyah' and 'Uda Aida' which preference would/did people have in watching?
Last month the focus was on song releases. By listening to the songs and the audience's reaction to the trailers it may be difficult to choose which to watch first. Music promotions have also been taking place from 'High End Yaarian' and 'Kala Shah Kala.'
Bups Saggu announced in December he will be releasing something every month. Starting off with January he released 'Sugar' where the vocals were provided by Stylish Singh and Bups composed the music. The lyrics illustrates where a man is scared to say his feelings in front of the girl he loves and has fallen in love with the way she talks:
'Mithi teri chat jatta sugar vadhave
Samne jatti de kuj bolda ni tu'
There were many more songs which released throughout the month: 'Careless Chann' by Rupinder Handa, 'Different Jatt' by Resham Singh Anmol, 'Jatta Koka' by Kulwinder Billa, 'Nazar' by Raman Kapoor, 'Alert Kudey (Daru Boldi)' by Garry Sandhu, 'Stubborn Jatti' by Harsimran, 'Nature' by B Jay Randhawa and 'Pher Kehna' by Gupz Sehra.
You can follow me at Follow @rupinder_rainer