SimplyBhangra.com Top #Bhangra Songs 'December 2018'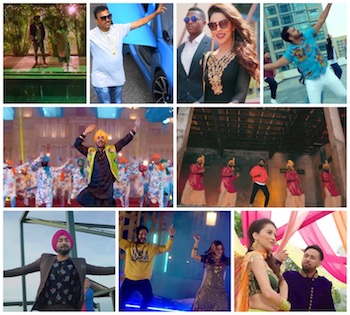 Throughout the whole year we have been looking at some of the top songs released each month. During this festive month the number of releases started to decline after halfway through the month.
Let's start with talking about the much-awaited album 'Roar' by Diljit Dosanjh. In November, Diljit introduced the title of his album along with a list of the song titles which consists of 10 songs. This image in itself got people going crazy!
And then the wait was over! On 17th December he released the first video to his album 'Gulabi Pagg' which has been directed by Harry Singh and Preet Singh. From past knowledge, I think many people would agree that when Diljit releases a desi style song it will not fail. And that is exactly what this track did and fans couldn't wait for the release of the album the following day!
And once the album released you could imagine what the reaction was like. That is not all. He has also announced he will be releasing the video to the next song in his album 'Thug Life' on 6th January 2019.
Ranjit Bawa released a wonder romantic track 'Kangan.' The lyrics have been beautifully penned by Gill Raunta which indirectly talks about love and asking a girl to be their lifelong partner.
'Ni meri bebe ne kangan jehde saambheya
Mainu tereyan guttan de mech lagde.'
Moving away from the pure desi tracks like' Narma' and 'Mastaani,' Jenny Johal has recently been showing that she is trying to work with more modern beats and videos like she previously did for 'Gold Wargi' and now with the recent release of 'Nakhra.'
Prabh Gill who is known for the success of his romantic tracks released '100 100 Wari.' There's always a bit of quarrelling happening between partners but this also shows indirect love. Even though some men may show they are not scared of their partner, I would say women would be able to agree on the following verse:
'Nikki nikki gall utte lad dae
Rehnda par mere ton baghair na
Din vich 100 100 vari lad dae
Rehnda par mere ton baghair na'
Gupz Sehra who is known for his music composition is also becoming more known through his songs as a singer. He previously releasing tracks like 'Label Black' which is still currently playing worldwide on the dancefloor and 'Bindrakhia Tribute' which if beautifully composed will definitely be a hit and in this case that is exactly what it was! With both tracks doing extremely well, he started to release more tracks.
And with the recently release of 'Hi Fi' with Bhumika Sharma, the upbeat dancefloor track where both are singing about how they have to change for each other as their standards are high has received so much love.
'Gangland in Motherland' is a Punjabi web series where the first episode released on 19th December 2018 starring Nishawn Bhullar, Mehtab Virk, Japji Khaira and more. And Jass Manak released the track 'Toronto' which people really enjoyed and may have made people more aware about the starting of this new web series.
This has definitely been a massive year for the UK music industry with UK artists releasing many worldwide hit tracks which sounded fresh and original. This month was just as successful as Bakshi Billa received a great response with 'Yaraane Mitran De.' In addition, Harry Sandhu released 'Peeni Chhad De,' 'New Direction' by Subaig Singh, 'Jaw Drop' by Jhinda Music and Sanj D entered the industry with his debut release of 'Tu Pateya.'
Other tracks released during the month were 'Vicholiyan De Gapp' by Kamal Khaira, 'Rovenga' by Aarsh Benipal, 'Jatt Da Dil Nachda' by Ladi Singh, 'America vs Korea' by Rajvir Jawanda, 'Peg Day' by Shivjot and 'Sab Fade Jange' by Parmish Verma.
You can follow me at Follow @rupinder_rainer