Female Singers Shining in 2018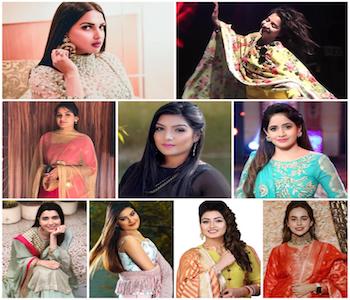 2018 is a year which brought revolution in the Punjabi music industry, especially by female singers. The 'Mutiyaar's' walked toe to toe with the 'Gabhru's' and gave chartbuster tracks this year!
Let's have a look at them ...

Miss Pooja
The epitome of Punjabi singer Miss Pooja has raised the bars in the industry. Every year she provided something above expectations. Previously releasing songs such as 'Pasand,' 'Jeeju' and 'Who Dat Girl' she has proved nothing can stop her from trying different styles of music.
This year she proved this again with 'Kashmir' which has a very modern video and music composition. Even though it is not a dancefloor track, it is something you can listen to on the go.
And the track 'Tu Meri Care Ni Karda' the lyrics illustrate how the husband is always busy and the wife is upset as he doesn't care about her or spend a bit of quality time for her to share her thoughts/feelings.
Kaur B
The very beautiful and talented Kaur B reached the expectations of music lovers once again in 2018. She delivered many beautiful songs this year starting with 'Bolliyan' in March which she received the 'Folk Oriented Vocalist' Award at the PTC Punjabi Music Awards 2018. 'Bolliyan' is another great track you can add to your playlist during the wedding season.
She gave the dance number 'Engaged Jatti' which became an instant hit and also released a lyrical video entitled 'Maharani.' Even though many have classed this as a lyrical video she released a video herself to this song. Check it out below:
Previously working with Jazzy B for the track 'Shikaar' alongside Amrit Maan, she recently released another track with Jazzy B entitled 'Jatt Da Flag.' She worked with Snappy for the first time who composed the music to 'Budget.'
Jasmine Sandlas
Jasmine had a magnificent year with blockbuster hits by releasing the song which everyone was waiting for 'Sip Sip' where in the video she included clips of her own shows and given the video an atmosphere when socialising with friends and having fun.
After the release of 'LV Di Jean' she collaborated with Preet Hundal once again for 'Whiskey Di Bottal.' She also released 'Veera' which was a catchy song and 'Patt Lai Geya'.
Apart from singing many artists move into the direction of acting however Jasmine moved towards hosting. This year she had the opportunity to host at the Brit Asia Punjabi Film Awards which took place in May in the UK where well-known artist flew from abroad just to attend this magnificent event.
Rupinder Handa
The winner of 'Awaaz Punjab Di' in 2005, Rupinder Handa had an extraordinary year with extraordinary songs. From tracks like 'Berukhiyan' which is an emotional sad track, 'Queen Of Sardar' which is a catchy upbeat song.
'Jodiyan' which I gather you can guess what it is it about from the title and 'Stay Away' which is talking about women having a strong stand shows she has fulfilled the needs of different audiences this year alone.
Anmol Gagan Maan
When you think female artists you may think a soft delicate voice, however there are some artists who alongside their soft voice also have a powerful voice to make the lyrics sound more powerful and meaningful which gives that extra spark to the song. Anmol Gagan Maan would be one to add to the list as you will be able to hear from her tracks this year like 'Fukrian Maarey', 'Wlaa Wali Pagg' and 'Tralle.'
However, song 'Att Karvati' outshined brightly out of all and made it one of the most successful songs of the year.

Nimrat Khaira
Simple and supremely talented girl Nimrat Khaira has opened her wings by stepping in the direction which many singers already have, which is acting.
This year she casted in her debut movie entitled 'Afsar' with Tarsem Jassar as a solo-lead actress which became a super-hit. She had the opportunity to sing tracks in her own movie such as 'Sun Soniye' with Ranjit Bawa,'Udhaar Chalda' with Gurnam Bhullar and 'Khat.'
With a busy schedule when shooting for the film she has also found time to release a few singles 'Ranihaar' and 'Brobar Boli',
Sunanda Sharma
The most popular female singer on Instagram Sunanda Sharma had a blockbuster year.
Firstly, she debuted in the Punjabi movie "Sajjan Singh Rangroot" opposite the international megastar Diljit Dosanjh. She also sang the female version of 'Pyaas' from the movie. And that is not all! In July, she made her debut in Bollywood with the track 'Tere Naal Nachna' with Badshah for the film "Nawabzaade" starring Raghay Juyal, Dharmesh and marking the debut of Punjabi actress Isha Rikhi in Bollywood. Is this her first step into the film industry?
On music front she released a fast and catchy dance number 'Morni' with hit duo Jaani who penned the lyrics and composed by Sukh-e.
Debuts
Alongside all these well-known artists there were a few artists that stepped into the industry with their debut tracks.
Bunty Bains is always looking for new talent and is known for introducing new artists into this very competitive industry. This year Bunty introduced Navneet Maan with the track 'Dariyaan' featuring Gitaz Bindrakhia.
Also the famous and gorgeous model Himanshi Khurana who has featured in endless Punjabi music videos also made her debut with 'High Standard' conceived by superhit duo Rav Hanjra and Snappy.