Subaig Singh ft. Roach Killa - New Direction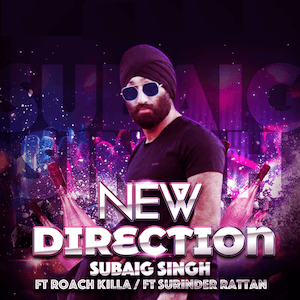 Subaig Singh continues to release new music, and each song is better than the last. "New Direction" featuring Roach Killa!
This collaboration has a contemporary international vibe, taking influence from current trends in both mainstream reggaeton and modern, urban Punjabi music.
Subaig has been throwing out teasers for the track's release all weekend, even dropping artwork and a snippet from the audio release which been getting a great response from the public who are eager to find out what Subaig is going to release next.
Subaig Singh is showing great versatility in his music and experimenting with different genres, different lyricists and different music producers; he's also taking to Instagram and other platforms to explain the poignant name of the track, "New Direction", which also reflects a slight deviation away from the usual traditional folk Bhangra that Subaig is most famous for, up until now.
The single is releasing through Mahaveer Records, Music is by DJ Surinder Rattan, Lyrics by Happ E Singh, and is Produced by Kulbir Kandola.
2018 has been a successful year for Subaig Singh, with hit after hit, and voted Best Male Singer at this year's UK Bhangra Awards.
2019 will see the talented, UK born singer work alongside award-winning Bollywood music producer, Harry Anand. Subaig Singh is definitely continuing to make his mark on the international music scene, with plenty more songs and music videos in the pipeline for next year.
Make no mistake, Subaig Singh will be dropping some amazing dance anthems for 2019. Watch this space!
You can follow me at Follow @rupinder_rainer