Punjabi Movie PR ft. Harbhajan Mann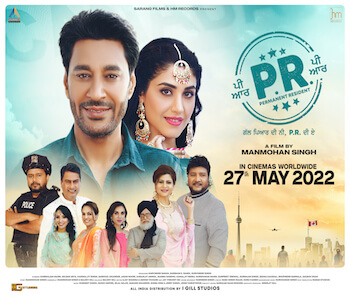 Out now is the Trailer to the upcoming Punjabi movie P.R. featuring Harbhajan Mann.
A man embarks on a journey to find out what happened to his significant other; a young girl who immigrated to Canada to obtain a PR status but has since disappeared and cut off contact with her loved ones.
Film Name : P.R.
Producers : Harvinder Saran, Darshan S Rangi, Gurvinder Singh
Directed By : Manmohan Singh
Written By : Manmohan Singh
Singers : Harbhajan Mann, Sardool Sikander, Jasbir Jassi, Mannat Noor, Sonu Kambo, Bhai Bhupinder Singh Firozpur Wale
Star Cast : Harbhajan Mann, Delbar Arya, Kanwaljit Singh, Late Sardool Sikander, Amar Noori, Karamjit Anmol, Mannu Sandhu, Kanwaljit Neeru, Gursharan Mann, Gurpreet Grewal, Gurnaam Singh, Seema Kaushel, Bhupinder Barnala, Gaurav Shah
You can follow me at Follow SimplyBhangra.com