Jay Sean's Basement Banter | EP #1 - "Regarding Ride It".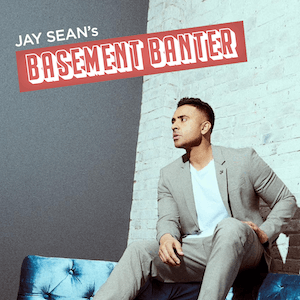 Jay Sean, one of the few British Asian artists to have multiple hits, both in the UK and also in the US, is set to show fans a completely different side to his on-screen persona.
The millions of fans who have followed Jay's career closely over the past 17 years, will have recognised that under the sexy and cool pop star demeanour lies a hysterical, self-deprecating and dry sense of humour, which he has finally put to good use with the launch of a new podcast series called Basement Banter.
Basement Banter features conversations between Jay Sean, and his best mate, Woody alongside special guests, where they pull the curtain back on their careers in the entertainment industry, sharing hilarious and often unbelievable tales from behind the velvet rope and on the road. From a sold-out Madison Square Garden to performing at gunpoint in Romania, Jay, Woody and guests banter back and forth about their experiences, life and 15 years of friendship.
The first season has guests such as Grammy Award winners Natasha Bedingfield and Melanie Fiona, Global Wellness Icon Deepak Chopra and more. The podcast will be available on all streaming platforms.
"I've waited a long time to tell the stories from the road. If you find the truth funny, you will laugh along with us for sure. I'm not pulling any punches on this Podcast and I'm telling it like it was and is. Even I wonder how the hell I survived some of this sh*t!" – says Jay Sean of the project.
The podcast is produced in partnership with The Heavy Group and US-based podcast powerhouse, Kast Media.
The Heavy Group is a creative Management, Media and Production company focused on holistic and artistic partnerships with makers and visionaries in Music, Film, Tech and Philanthropy. Formed in 2016 by Jeremy Skaller and Jared Cotter, The Heavy Group's main mission statement is to help uplift the artists of our times and push them forward for the global community to witness.
Kast Media is one of the world's largest podcast content creator and boasts a lineup of heavyweight podcasts including the worlds number one rated health and wellness podcast 'On Purpose' by Jay Shetty, influencer extraordinaire, Logan Paul with his 'Impaulsive' show and Jordan Belfort's (The REAL Wolf of Wall Street) 'The World's Den' to name a few.
Jeremy Skaller & Jared Cotter, Co-Founders of The Heavy Group add, "Jay broke down so many cultural barriers, being Indian and British, so he faced a lot of really difficult and hard to believe moments. I even remember a radio station in Florida asking him if he had ever run into the Taliban (because he had band-aids on his fingers from a weight lifting accident and they were making a torture joke). In his usual amazing way, however, Jay makes it all very funny and light-hearted."
You can follow me at Follow @rupinder_rainer