Catching Up With Meshi Sandhu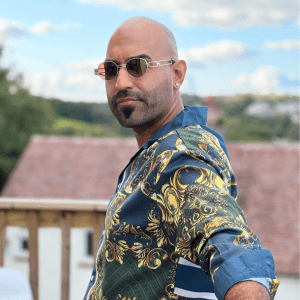 Welcome to the world of Meshi Sandhu, who returns to the music scene after 8 long awaited years! We caught up with him to talk about the release and more!
For those that don't know, could you please introduce yourself and tell us a bit about yourself?
I'm Meshi Sandhu, a UK based Punjabi singer that's returning to the music industry after 8 years. Some of you may have heard my previous releases 'Dil Mangdi' and 'Piche Piche' from when I was signed to VIP Records back in 2014.
I've been away for several years as I'd taken some time out to focus on things outside of music. In the background, I've been working on my comeback projects and have some exciting releases on the way.
How did you get into music and why did you decide to sing?
I clearly remember the very first time I was passed the microphone whilst playing Antakshari at a family gathering at the age of 16. If I remember correctly, I sung B21's Chandigarh and the response that I got was overwhelming. I passed the mic over to my cousin who was next in line and out of nowhere, my aunty grabbed the mic and handed it back to me and said, "you're a very good singer and I want you to carry on singing".
Over the years, I had sung at family and friends' events where I continued to receive great feedback which improved my confidence. By this time, I realised that I had a passion for music and took it a step further by entering talent competitions and networking with other artists.
Were you inspired by any musical artists?
I've grown up listening to Punjabi music including big names like Heera, Premi, Alaap, Malkit Singh etc. When I got into music myself, I was inspired by Jassi Sidhu, Juggy D and RDB as they were trending at that time.
As a Bhangra consumer, are you happy with the state of the industry and the material that is being released on a regular basis from unknown acts with no prior exposure or experience?
Music has changed significantly from when I first entered the industry. Nowadays Punjabi music is more westernised and we're seeing more rap fusion and urban vibes rather than traditional bhangra music. This shift isn't a bad thing, but as an artist you do have to move with the times.
It's great to see new talent breaking into the industry and bringing something fresh. I have a lot of respect for artists who work hard and are passionate about music.
You are releasing a new track - tell us how this project came about and your thought process going into this project.
My comeback single is titled 'Bounce'. I wrote and composed the song myself and the music produced by DJ Lyan. This is a catchy, upbeat dance track that will get everyone on their feet. I wanted to give my fans a party anthem, so I cooked up just that. I'm really feeling it and I think the whole world will be feeling it too.
Read More About The Release Here
Click Here to Order The Single
Seems like artists nowadays do not produce rich content, past generations were full of first-generation immigrants who had to change their circumstances. Therefore, they produced quality music, which was parallel to keep their roots alive, nowadays the 2nd generation can't seem to produce anything good, why is this?
I actually disagree with this statement. As I mentioned earlier, music has changed a lot over the years and artists nowadays are delivering something fresh. Punjabi music doesn't necessarily refer to Bhangra music, there's so many fusions these days that are setting artists apart.
Music is all about experimenting and enjoying the journey.
Everyone is entitled to their own opinion of how they perceive the industry is evolving, however I'm excited to be a part of this and see what the future holds.
How are the concepts for the tracks created? Do you just sit in the recording studio with a producer and brainstorm ideas?
Music is all about trial and error and there's not a set way of how a track must be made. Sometimes I may have a tune in my mind that I've composed but may not have written the lyrics yet. I'd then approach a producer with this idea, and they would lay down a guide beat. We do sit in the studio but it's all about vibing and building the song together. I'll then go away and write the lyrics.
Other times, I may already have the song written and the producer may have something suitable in their catalogue to fit the type of song. Now with the help of modern technology i.e., voice notes, ideas can be shared easily so when you get into the studio it's more productive.
We thank you and wish you the best. So, what message would you like to extend to the SimplyBhangra.com readers?
I just want to thank everyone for all the love and support they've shown me over the years. I know it's been a while since I released but what I've got coming in 2023 will be worth the wait. My comeback single 'Bounce' is releasing later this month.
Please follow me on my social platforms to be the first to hear about upcoming releases and behind the scenes:
YouTube: www.youtube.com/@meshisandhuofficial
Instagram: @meshisandhuofficial
Facebook: @meshisandhuofficial
TikTok: @meshisandhuofficial
You can follow Us at Follow @Simply_Bhangra