Catching Up With Komi Gill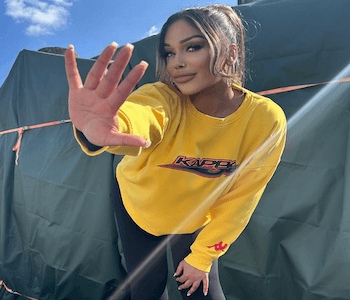 Welcome to the world of Komi Gill who featured on the track 'Caught Up' coming off "Jus Ritz" EP 'My Story' . We caught up with her to talk about the track and more!
Komi Gill, welcome! Firstly, share with us your background and what sparked your passion for music.
So firstly, I'm Punjabi and grew up in a big Punjabi family! There would always be music playing growing up and my dad had a massive part to play in how diverse and rich our culture in music was but also is even now!
My passion for music was kind of inbuilt in me, there would never be a day where I could go without listening to music! There's always music playing at my house! So, the passion you could say started from extremely young and has grown and blossomed ever since!
From what point did you want to pursue that dream of singing professionally? What was that path like up to now?
I never had a moment where I realised, I wanted to do this professionally. All I knew was I wanted to make music that will transcend generations, music that speaks to the whole world! So, in terms of taking, it professionally I never had a moment, it kind of just fell into place like a jigsaw piece and I've not looked back since.
My dream has never been to be a professional singer but more so just doing it for the love of music. Music is universal, it's not one size fits all. The path up to this point has been a long one, but it's a path that's always changing, many a crossroads, roundabouts, hidden hills, you name it. But the key is to embrace each part of the journey! Good or bad.
We hear that your new track Caught Up is featured on the Jus Ritz EP 'My Story'. Congratulations from team SimplyBhangra! Tell us about the song and how it came about.
Thank you so much! Honestly, working with my big bro Ritz has been a breath of fresh air. It's amazing to work with someone who understands your sound, your vision, your work ethic and even working alongside Indi with the team at 3Q it's like one big family! And in this industry, that's super important.
So, the song came about one day when Ritz and I were having a conversation about music, he told me he's working on this new and fresh vibe, something completely out of his usual material and of course me being me, I had to jump on it! And from there the rest is history, it was all about the summer!
Bringing that summer heat staying true to the Desi UK garage vibes! Absolute must, best believe it's one of them songs you can listen to at a BBQ, on the beach abroad somewhere but also in your car whilst you're driving with the windows down! It's a summer tune and it's just pure vibes! Super proud of the team and all their hard work!

Do you think it is essential to reinvent yourself on every release, as nowadays most producers tend to stick with their tried and tested methods, which keeps originality to the minimum?
Reinvention in life is important let alone every release. You can only be as good as you were yesterday, if you can't grow and adapt and evolve, we as human beings are failing. Yes, producers stick to their own forte and they tend to stick to their own comfort zones which is cool and definitely works but when you work with someone like Ritz who isn't afraid to move away from the norm it's refreshing to see and pushes you to adapt too!
Originality is no more in this world which is perfectly fine. I think a lot of the time art comes in many forms, the amount of times I hear samples or similar loops in songs and my ears prick up and I think damn that's wicked! I know where that's from and they've revived it! Makes you go back and listen to the original all over again but it makes you appreciate the way the new tunes been made/created.
Thinking outside the box and doing something different from the rest, is it fair to say that a lot of new artists lack their own identity to their music?
I don't think a lot of artists have a specific identity, it's all an ever-changing platform. Which I think, in my opinion, is what makes all the music so beautiful. If we stuck to the same old thing, it would become boring. You can constantly switch it up by staying true to yourself as a person but if you're making music that makes you happy then that's the main thing.
Your identity shouldn't be defined according to what's relevant because trends are always changing. Stay true to yourself. Make the music you want to make. Everything else follows 🙏🏽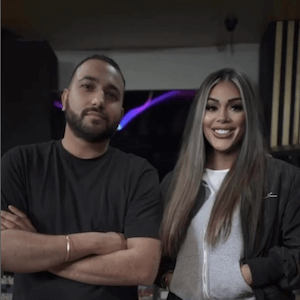 You definitely have uniqueness to your style. What would you say sets you apart? How was it working with Jus Ritz?
Oh, wow I appreciate that! I think I have a certain softness to my voice but I still think I embody that fierceness at the same time. I want people to FEEL deep within their souls what I'm saying but I don't have to shout or be so outspoken for it to work.

It's amazing working with Ritz and I see many more hits being dropped in the near future, of course I'm always open to working with people to see what magic can be made! For now, I'm enjoying pumping out the music. Let's see what the future holds, all I know is its exciting times and I can't wait for people to hear more!
In terms of interests and challenges, searching for a personal voice, as well as breakthroughs, how would you describe your development as an artist?
I would definitely say it's a journey. I've never had training classically or been taught or vocal coaching. It's just something I enjoy doing and I think now the more the world hears the music I make or the songs I sing that will be where I myself will be able to look back on just to see how far I've actually come.
There will always be challenges, for me I wanna stay true to my UK people! That's where it's at!

Are you interested in "music of the future" or "continuing a tradition" when you work on your projects?
I'm interested in both! We have to stay true to our roots, there is nothing wrong with being traditional but also pursuing music of the future. I think a lot of the time we think we can't pay homage to our roots by working on it in the times of "now" but we most definitely can!
Look at the likes of Sidhu Moosewala, he paid homage to his roots all the time but he managed to break out into other industries and worked alongside some big names like Burna Boy and so many more! If that isn't being traditional whilst bringing music of the future, I don't know what is! R.I.P 🌹❤️
How important do you think the websites such as Youtube, Facebook and online marketing are in the development of new artists?
These platforms are extremely detrimental to artist development. They are primary spaces for us to be able to share our music and it out there to the world to listen!

It's platforms like this that help the world experience all the magic. The marketing is beyond me, I do it for the love of music but I do believe sometimes it's taken more as a business as opposed to a passion by a lot of people.
Before we conclude this interview, is there anything you wish to say to the readers of SimplyBhangra.com?
I wanted to say a massive thank you to SimplyBhangra for sharing the new EP "My Story" and getting "Caught Up" out there for the wider audiences to see.
You guys have always supported us and it's massively appreciated. So, to anyone reading this, there's more to come! Keep it locked, stay tuned and watch this space!💥
You can follow Us at Follow @Simply_Bhangra