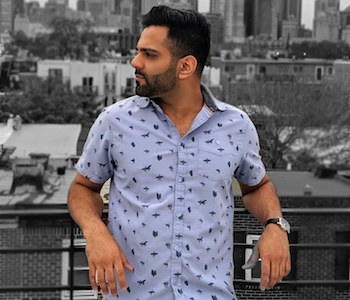 Ranjah brings you a brand new banger in the form of 'Nakhre' - bringing together his own special blend of urban vibes with a good old helping of Punjabi flavas. We caught up with him to talk about the release and more!
Ranjah, welcome! What's going on in your world? We hear you have a new single released tell us more about this.
Thank you. All is well, working on music and helping plan my sister's wedding. Appreciating the response from listeners on my debut single "Nakhre" feat. Raxstar. Big shoutout to SimplyBhangra.com as well for including me in their Top 20 list for multiple weeks in a row. As my first track, I wanted to create an upbeat vibe with some cross cultural components. Have gotten good feedback from people jammin out to it.
How was it working with Raxstar?
He's a professional. We had a good time making the video and meshing our styles on the track.
How would you describe yourself and the music you make?
I'm a passionate person, also curious and always exploring. I love to laugh and make others do the same. Adventure incorporates into so many aspects of my life. This includes my music, which I would describe as a blend of urban Punjabi with R&B, Hip-hop, Classical Punjabi, and world influences like Reggaeton/Afrobeats.
What motivates you? Were you inspired by any musical artists?
My biggest motivation is the happiness I get while making music, and watching people enjoy my music. Its a lot of fun. Too many inspirations to name but some early ones would be Rishi Rich, Apache Indian, Malkit Singh, Bohemia, Drake, The Weeknd. I could go on but you'd run out of ink.
Your music is more urban style based, what other styles would you like to try and with which artists do you think would you like to work with?
Some days I'm really into the R&B Hip-Hop vibe, some days I only listen to traditional Punjabi music, and maybe I'll go a full week listening to random international songs to see what connects. Urban Punjabi is a good description as it combines many elements. I want to keep it interesting for myself and others with variety.
Would love to work with some of my inspirations as listed above as well as artists from different genres. Naming a few off the top - AP Dhillon, Badshah, Guru Randhawa, J. Balvin, Mickey Singh, WizKid. Would have loved to work with Taz (Stereo Nation) as he was a massive influence for me as well, and I was actually working on a cover to Ishq earlier this year. Rest In Peace paaji.
Is it fair to say that a lot of new artists lack their own identity to their music?
That's fair to say. We can hear 10 songs in a row from different artists and sometimes they sound the same. Which is unfortunate because I wish new artists were encouraged to find their own sound by experimenting instead of copy-pasting successful formulas from existing music. It takes time though to break out of that.
I'm a new artist myself so can't weigh in fully, but I want to write lyrics and create music from my authentic experiences and interests. I'm a bit OCD - constantly deconstructing beats, lyrics, and melodies in my head. My only criteria is that I enjoy listening to the music I'm making myself.
Keeping up the latest music trends is hard, what challenges as an artist you come across and how do you deal with them?
I try to pursue those trends that connect with me, sounds I enjoy. This takes the pressure off of me doing something I don't want to do for the sake of views etc. However, I also try to keep an open mind and give myself a chance to learn things I may enjoy down the line.
To be honest I'm still trying hard to like social media (Instagram, TikTok) because it's not fun for me. I'd much rather be singing all day or climbing a mountain. But I think I'm getting better at that slowly, give me social media tips -

Insta: @ranjahmusic.
Before we conclude this interview, is there anything you wish to say to the readers of SimplyBhangra.com?
Stay tuned - lots more music headed your way soon. All I'll say about the next track is it has major summer vibes. Check out "Nakhre" if you haven't already - it's on YouTube, Spotify, Apple Music, and streaming platforms worldwide. Much love
You can follow me at Follow @rupinder_rainer