Exclusive Interview with DJ Manny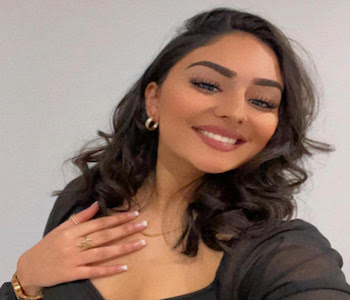 Young growing artist DJ Manny has a lot of love for music of different genres. Many people keep their passion as a side job or a hobby and slowly grow and build their own identity and this is exactly what DJ Manny is doing!
We caught up with DJ Manny to talk about her career and passion.
Welcome! What or who influenced your early passions and interests as a DJ?
Hello! Thank you for having me! My passion for music started at a young age, I remember my first ever DJ Controller was a Groovy Chick one! It was tiny but has one jog wheel and lots of sound effects. Then I levelled up to a JLS one gifted by my friend for my birthday. Back then though I didn't realise how interested I was in it and therefore picked it up.
It wasn't until secondary school my friends always used to call me 'DJ Manny' as I was always controlling the music no matter where we hang out. Then when I started going clubbing, I would notice if the beats were off, or the transition was poor. I always thought hmmm 'I can do that.'
Then when I went to uni, I actually had one lesson with a friend but couldn't get the hang of it and gave up, but lockdown gave me that push to really go for it and that's really when it took off. I wouldn't say anyone in particular influenced me, I pretty much did it solely for my love of music.
In order to be successful, what skills do DJs need to have?
I think in terms of being successful you need to be creative. Anyone can easily mix two songs together, but genres, timings, word play etc are things that make DJs excel. For example, Mixing Bhangra with Bollywood, or new Urban Desi with Old school Hip hop is something I love doing and does well! DJs also need to have an ear for music, it sounds silly but you can tell when a DJ doesn't have an ear for music compared to one who does.
Keeping up with the latest music trends is hard. What are your current challenges as a DJ? What is it about DJing that you enjoy, rather than, say, producing your own music?
This is the main thing I struggle with being a DJ. As I listen to a range of music it is so hard to keep up. Sometimes I'm honestly months behind new songs and it can become frustrating but its just something DJs need to stay on top of! The main thing I enjoy about music is how it brings everyone together.
Music is able to lift everyones mood so being able to mix a range of uplifting songs, change the beat, genre etc puts me in a good mood. A Challenge I face though is feeling like you've played everything and not know what to play next. I know this happens a lot with other DJs too, but it can really put you off!
I like to flow through genres and have structure to my sets, so if I finish a genre too early or skip a genre due to the audience, then I find myself struggling at the end of a set.
How important is it to have a relationship with the music you're playing in your own approach? Since there is so much music out there, is it even possible to build a meaningful long-term connection with a particular track or album?
If you don't have a connection with the music, then don't put all your time and effort into that genre! If the DJ isn't enjoying the the set, it's most likely the audience won't either. I've always had a connection with dancehall music, and you can see that through my sets or my tiktoks, the whole vibe is completely different to when I play US Hip Hop for example.
With Bhangra, I actually didn't listen to it at all before my BBC Asian Network mix over a year ago. However, now I absolutely love it and now I really connect more with my culture. If it wasn't for me DJing I highly doubt that would have happened.
How do you decide which songs to play during one of your sets? Is there another criterion that you use besides pure subjectivity to select what to play?
Normally, I look around the room and see what types of people are there. However you won't know exactly what music they like. So I actually start my sets with either old school R&B or UK Hip-hop and see what songs people bop their heads to and sing along to. Then I have a rough idea of the age of my audience and what music they may be into. Then I go from there!
What do you think makes a strong transition from one track to the next? And how do you see the relative importance of establishing a flow versus creating tension through suspenseful breaks?
The transitions I find are the hardest part but extremely important. The audience can tell when a transition was awful. My transitions depend on the genre, If its R&B I use soft transitions, or if its Bhangra or Bashment id do something different.
A strong transition is where you don't hear any breaks, and the lyrics flow, as in the audience know exactly when to sing along to the next song. Thats when you know the transition was good.
Can you walk us through a day in your life, from a possible morning routine through your work? Do you have a fixed schedule? How do life and creativity interact - do you separate them or try to make them blend seamlessly?
If I'm honest, DJ'ing isn't really my work, It's a hobby. I don't do it full time, or even take private bookings (despite EVERYONE telling me I should).
I actually have three jobs, Im a social media manager, a supporting artist / double / stand in for TV and Film and I DJ. So juggling all 3 is tricky.
I do keep them completely separate, and luckily all three jobs are quite flexible which allows me to take on all three. My days are all different depending on the job!
Playing music at home and playing it at a club differ and relate. What can be accomplished through each, and what do you personally gain from both?
At home, I feel I connect with the music itself and play music for your own benefit. In the club you connect with the audience and play for them. Its a completely different feeling, in a club you also have the pressure which can throw you off, but you gain exposure.
Tell us about a time you made a mistake or experienced a failure and how you dealt with it?
As a relatively new DJ I make mistakes all the time! Its only natural, sometimes it can really annoy me but other times Im just like 'oops' and move on! When I first started I sometimes cut the previous song too early and had a gap of like 10 seconds just playing the intro to the next song, but when that happens you just have to style it out and play sound effects.
What are some of your favourite tunes to mix?
I have so many I definitely can't pick! But I do love playing AP Dhillon on Tupac or Biggie beats. Not sure why but I just do!
Thank you and do you have a message for all your fans? What social media handles can people follow you on?
Without my supporters I wouldn't be where I am today! I want to thank all my tiktok followers for the consistency and motivation to keep making tiktoks! Even when I don't post for a week, they ask where I am and its just so lovely to see people enjoying my mixes that much to constantly ask for more!
Tiktok: its.djmanny
Instagram: its.djmanny
Mixcloud: its.djmanny
You can follow me at Follow @rupinder_rainer