Exclusive Interview with TikTok content creator Sedoso_ (Silky)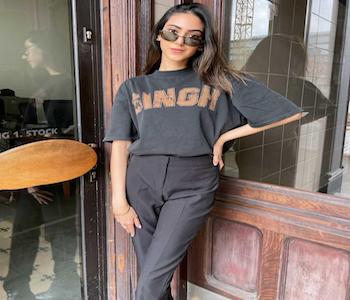 We recently caught up with the TikTok content creator Sedoso_ (Silky) to discuss her rise on the platform, her love of music, and to gain her insights into what it takes to grow an impressive audience on TikTok.
Tell us a bit about yourself. How did you get into social media?
My social media journey started in 2014. I started studying Fashion Journalism that year and I decided to make an Instagram account. The main idea was to create content all around fashion and beauty so that I could accompany my studies with pictures and posts.
But the initial idea of just sharing outfit pictures quickly changed after I discovered apps like Dubshmash, Musical.ly and TikTok as I began to create comedy video content as well. I started just for fun and never really thought that I would ever reach so many people.
How has TikTok been beneficial for you?
I think the biggest benefit so far is that I've been able to connect and network with so many other content creators. Being a German born I never really had people around me that would understand the Desi half of my life. Getting to know other Desis on TikTok and being virtual friends with them has really been amazing.
I haven't even met them in person but we support each other and are always up for collabs which I love. Also, the opportunity to work with brands and just being able reach out to people that have the same interests as me has been an absolute dream.
How did you initially discover the platform and realise that you could really grow on it?
I came across an app called Dubsmash in 2015 where people could dub on different songs, famous movie dialogues etc. You could say it was a simpler way of TikTok. I discovered their Bollywood and Punjabi categories and was instantly obsessed with making videos from there.
I started sharing my Dubsmash videos next to my outfits on IG and people seemed to find them really entertaining. My account was growing and I realised that people were really enjoying my funny videos that I myself absolutely loved making as well. Then the app Musical.ly came around. The idea was similar to Dubshmashbut just with more features and effects. And then last but not least Musical.ly became TikTok in 2017 and here we are since then.
We have seen how much support you receive at each one of your videos. Do you think your fans and their support are a major factor in your success?
Definitely! I love the interaction with my community. They inspire me daily, even tag me in funny memes or videos – just like friends would do. I really appreciate their support especially the ones that have been there since day one. It feels like having friends all over the world.
It always makes me happy to read comments like "I can relate to this" or "this is me". That drives me to make more videos.
How do you typically find inspiration for your videos or your choreography?
Songs are usually the main source of my inspiration. I try to read between the lines and interpret the lyrics in a way that I find funny and luckily my followers do too. And sometimes I'll just get ideas in the most random situations: while having breakfast, during a meeting or on a phone call lol.
What kind of songs do you like, and what's on your current playlist?
Punjabi and old Hindi songs all the way! I don't think I could imagine even one day without listening to a Punjabi song. My top three songs on my playlist right now are Untouchable by Tegi Pannu and Manni Sandhu, Haan by Mickey Singh and Top Notch Gabru by Vicky – I've been obsessed with that song for over a year now. Other than that I really enjoy listening to songs by Diljit Dosanjh, The PropheC, Jasmine Sandlas, Ezu, Garry Sandhu and of course old skool bangers by Panjabi MC, Soni Pabla, Bally Jagpal, Gurdas Maan, Lembher Hussainpuri. Ahh the list is too long. It would probably take me a whole week to count them all haha.
The evolution of Punjabi music has opened to producers move away from the beat of the dhol but toward more experimental, hip hop and rap-centred music. Do you have any views on this? Would you consider being a lead in a video? Or have you already done that?
I'm a huge fan of old and classic Punjabi music with the traditonal dhol or tumbi elements. Music by Surinder and Prakash Kaur or Kuldeep Manak will forever be golden. But at the same time, I do enjoy the fusion and experimental pieces that we're coming across nowadays. Artists like JK or Raf Saperra have a great way of combining both worlds for example.
A lot of people do look up to you in many different ways, what kind of advice would you give aspiring entrepreneurs or social media influencers?
Just go for it. I know it's easier said than done but if creating content on social media is something you'd enjoy you should just give it a go. The main advice I always give to others is to make sure you're having fun with it. When I started with my social media journey I didn't even know it would give me so many opportunities in the future.
I was only doing it for myself and still am because creating videos makes me very happy. Even today I would never film a piece of content I wouldn't find funny or wouldn't like. Having fun is my biggest priority and keeps me motivated as well.
Social media has given a platform for online influencers to reach millions of fans through a range of content, also allowing them to use it as a source of income. Is this something that drives you to release more content?
Being paid for the work and time you invest in brainstorming, filming, editing and so many other things that go into creating a reels or TikTok is definitely great and a benefit of having a reach on social media. I think a lot of people underestimate the effort content creators and their teams put into their videos and pictures.
Nevertheless, I have also done collabs that have been unpaid partnerships because I put the content and creative output I could create first instead. That's why my main motivation is creating new and fresh pieces of content that excite me – paid or not paid. When I started posting videos I didn't do it with the motive that I want to earn with this. I think at that time back in 2014 being paid for posts and the term influencer wasn't even something a lot of people knew and still I was driven to post daily back then as well as today.
Bet you get millions of it, but what are the best and worst Instagram DM pickup lines you received so far?
Haha, I must say that I come across some very entertaining DM's. I even started a little series on my IG stories called "DM of the day" where I would share one funny message a day. One of them that definitely made me giggle:
"Our relationship would be so strong, it could survive a season of Big Boss." A super cheesy one was: "Can you guess what superhero I wanna be? Not Ironman, not Superman but your man."
Do you have any advice for dealing with negativity and stereotypes on social media?
I'm really grateful for having a very positive and polite community. However, I do come across some negativity on my account or on social media in general here and there. My advice is to not let that negative energy get to you and influence you. It might take some time especially if it's new to you. I was very upset in the beginning because I couldn't understand why strangers would leave weird comments without even knowing me. But now I just send them a heart or hug emoji back. They could use some positive vibes in their life.
What are some of your long-term goals as an influencer?
I'd really love to start something of my own one day and use my reach for a good cause. I'd like to give something back to my community. I haven't thought of anything specific just yet though.

Can you tell everyone where they can find you on social media?
You can find me on Instagram and TikTok under @sedoso_
What would you like to say to the readers at Simplybhangra.com?
Spread positive vibes, stay happy and safe...and of course. Keep loving Bhangra!
Thank you for taking time out to talk to us about how you are building your career, your interests and we wish you all the best for the future.
You can follow me at Follow @rupinder_rainer