Catching Up with Gajjan Singh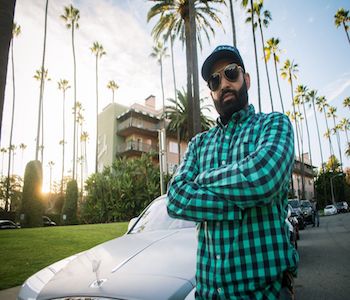 We caught up with Gajjan Singh the first Punjabi Folk artist from Chicago on his latest release IKK Chitt and More!
His majestic folk vocals and catchy hip/hop, pop fusion technique have earned an imprint into the music industry. Born in India, raised in Chicago he was inspired by listening to 2Pac, Notorious BIG, Nas, Young Jezzy, Kuldeep Manak, Sukshinder Shinda, and Surjit Bindrakhia gave him a way to cope with life.
Can you tell us a bit about yourself?
I like to play sports and spend a-lots of time with my boys. I like to keep it to myself. Alone time is my favourite. There is a lot to know about me. Being real is my thing. I don't like 2-face people. Respect and loyalty are what I live for.
How have you progressed throughout the years?
I have progressed a lot in many ways. Business wise, Physically and mentally. When you hit the rock bottom and there is no space to go down, all you can do is go up.
Your music is very experimental, channelling all those wide-ranging influences. Are you therefore ever apprehensive over how critics might respond?
When you are different and unique, people will always down grade you, but if you are consistent eventually they will listen and fallow through. I had people tell me and even my own family that I should pick another carrier. Now it's the same people asking me when is your next song coming.
Trust yourself and they will trust you. I can careless what people think about me or how they judge me. I just keep doing me. Walk like an elephant with no fear.
What do you think are the keys to making a track successful in the Punjabi music scene especially being in the USA market?
Any business or venture needs 100% Dedication. Can't do a half job and expect full pay. Especially now days with everyone trying to be a singer. Be real not fake people will find out especially here in US if you fake or real. Streets talk.
Do you feel the Bhangra scene is suffering because producers are, generally, relying too much on their signature sound?
This is a different world then 20 years ago. When people got each tape or cd of their favourite singer or producer. Now days it's too much going on way too many singers. 90% are just lying faking it just to make it. We live in a fast pace world where lying cheating faking is the new norm. No matter how good the producer or the singer is, people are always looking for the next one.
Lastly, tell us a little bit about your new track?
IKK Chitt I'm talking about having 1 heart but million thoughts. I wanted to do everything. I had way too much energy just didn't know how to channel it. I like to be creative. I find art in lyrics. My lyrics are deep.
It takes me no time writing songs because these songs are from my real-life experiences.
Teaming up with award winning director Sunny Dhinsey from England to shoot and direct his new track 'Ikk Chitt' with big beats by Malcolm Flex.
You can follow me at Follow @rupinder_rainer