Catching Up with Shrinaya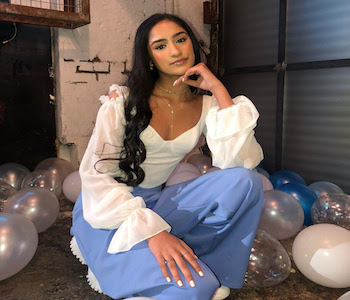 Welcome to the world of Shrinaya who is all set to release her fantastic debut single 'Swag Bada Athra'. We caught up with her to talk about the track and more!
Welcome. Can you tell us a little bit about yourself and the new track? How did it all come together?
I'm 14 years old, I am still studying and I have a passion for Indian classical singing and dancing. My track is actually a perfect description of me. It is all about how I am chasing my dreams, how I have traveled and lived abroad and it is just about having fun.
Shaye created the music for me, then my lyricist, my composer, my mother and I created the song and in 2 weeks and we got into the studio and recorded it.
How important is it to experiment with new sounds rather than the regular, favorite traditional beats?
I think it is quite important to experiment with different beats and new music because in the music industry it's good to be different and unique, otherwise i think it would be very boring if every artist created tracks in the same genre of music.
Creativity in Asian music is always key, as people like to hear something new and original.
Creativity is still lacking with everyone chasing a similar style because that's what the market wants & it gets airplay. Where does your passion for music come from?
Ever since I was four or five years old, I used to always sing along to Bollywood and Hindi songs in the back of the car. When my parents notice, they put me into Indian classical singing classes and ever since then I have always loved music and singing.
My two amazing singing teachers, Debjani Ji and currently Jayeeta Ji are one of the main reasons I have come this far. And my beautiful and loving mother has always been there supporting my passion, supporting my every step though my debut and I am who I am because of her.
Have you faced any challenges while turning your passion into a career/lifestyle?
Creating my debut has been a bit of a challenge, as it has all been a new experience for me. I have learnt so much in the past couple of months from singing this in the studio to shooting the video. I was only 3 weeks into having had my braces fitted and it was such a difficulty to sing with them.
I believe I will always face a challenge in juggling my singing, my studies and my dancing. However, I have an amazing manager AKA my mother, a great supportive family and Shaye who is highly considerate of my education and encouraging.
Tell us about your life outside of the music world. If you were not a singer, what would you be doing in life?
Outside of school, I like to spend time with my family and friends. I love dancing, before Covid I used to perform at community events and for Brent Council events.
We thank you very much for your time and appreciate your insight. We wish you all the best with your future projects. Any final message for the SimplyBhangra.com readers?
All I have to say is thank you so much for all the love support, I really appreciate it.
Produced in the UK, the song is a beautiful Hindi pop song with a current urban twist that will sure to please her social media fanbase of thousands!
Keep in touch with Shrinaya:
You can follow me at Follow @rupinder_rainer