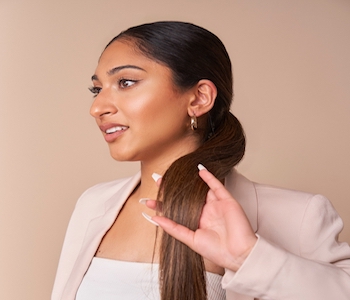 Welcome to the world of UK born & bred Punjabi female vocalist Khushi who is all set to release her fantastic debut single 'Nainowale Ne' via The Hilltop Studios. We caught up with her to talk about the track and more!
Khushi, welcome! What's going on in your world? We hear you have a new single, tell us more about this.

Hi! There is a lot going on at the moment. While working with The Hilltop Studios over the last year or so I have been exposed to many different opportunities and experiences, that have allowed me to learn a variety of new skills - many of which I never had before. Alongside this, I have also been studying for my A- Levels, and I hope to attend university next year.
In terms of Nainowale Ne, at the very beginning, I was asked to sing a 30 second recording of the song just to see how it sounded, this was really liked by the music producer, and we moved forward with the song.

Tell us about your background and your journey so far and why the label The Hilltop Studios for your debut release?
I began doing Kirtan in the gurdwara at the age of 11. Soon after, my mum made me realise that I actually had a passion for singing. I would sing at small events and family gatherings until my mum thought it would be ideal for me to begin singing lessons in order to enhance my knowledge of music and also receive the necessary training. I took lessons from my Ustaad (Roben Gill) for 5 years, alongside posting small covers on YouTube.
In lockdown, since we all had the opportunity to focus on the things that we are passionate about the most, I was able to practise a lot more as well as receiving training from the Shankar Mahadevan Academy.
I began to post covers on my Instagram page. From this, I was approached by The Hilltop Studios who were extremely accommodating and comforting in ensuring that introduction into the industry was one of a smooth one. I signed to the label and we began to plan my journey, starting with Nainowale Ne.
There are times when entering a risky competitive industry, you think to yourself is it worth taking the risk. What was going through your mind?

To be fair, before committing to music, I did have mixed feelings about the whole process. There were many questions that were whizzing through my mind.
Would this be worth it?
Am I good enough?
How will I balance my time?
However, with hard work and resilience, alongside the support of family and friends, anything can be achieved, and so I am glad that I went ahead with it.

We look forward to seeing something fresh in our scene! I imagine your influences must be really diverse. Who has shaped your music, creatively?
Yes, artists like Nimrat Khaira, Diljit Dosanjh and Neha Kakkar in the Punjab industry really inspire me. Equally, I also look up to artists such as Jorjia Smith and I LOVE DRAKE. I have also grown up watching shows such as Indian Idol and Sa Re Ga Ma Pa which have also given me inspiration.

What do you think of the quality of music which is being released in today's market?
Since we live in a much more diverse society, I feel as though, nowadays there are different genres of music available, in order to meet the needs of all communities. In the Punjabi industry, I feel that the quality of music that is being released in today's market is diverse and thus, it meets the needs of all generations and all communities (there is something out there for everyone)

Do you think you need good contacts to be successful in the music industry or is it solely on an individuals work?
Both! I believe that with hard work and determination of the individual, success can be achieved in many ways. Generally, the more a person works with the right intentions, the more recognition they receive, and so therefore the more contacts they gain.
Resulting in more exposure. However, I also believe that with the right contacts and support you can further your career in the right direction. Social media has also played a significant role in recognition. I also had the support of family and friends and they encouraged and motivated me throughout my journey
What can your audience look forward to from you in the future? Any more projects you're working on? Anything you're able to share with us?
There are many more projects in the pipeline, that I hope the audience will enjoy as and when they release. We are experimenting with my niche and exploring a variety of aspects.

What would you like to say to the readers at Simplybhangra?
Follow your dreams and never give up. Always stay focused and motivated in order to achieve what you set out to do.
Keep it touch with Khushi

https://twitter.com/khushiofficial_
https://www.instagram.com/therealkhushikaur/
https://www.facebook.com/khushikaurmusic
You can follow me at Follow @rupinder_rainer