Catching Up with Charan B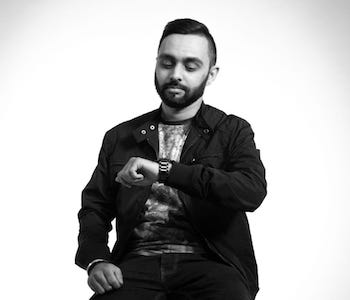 We caught up with Charan B, check out what he had to say!
Southall born music producer Charan B started his musical career during his time at high school. He wanted to develop his passion even further where he decided to complete a diploma in Sound Engineering. He then started to work with award winning producer Vee to gain further experience.
With all the experience and knowledge he has now released his debut production 'Sanjog.'
Congratulations on the release of your debut single 'Sanjog' your first production, so how does it feel?
Thank you. It's exciting to have my debut track finally released after many months of hard work
'3Q Records' & '3Q Media' presentation, the song is written by lyricist 'Deep Mahiya'. The video has been shot in India by 'Sonu Sekhon' and in the UK by 'Bilal Sayeed Productions'. The song also features instruments played by Raj Birdi (RXJ Music), Jelly Manjitpuri, Shibu and many more.
Most producers these days tend to stick with their one 'successful tried and tested production'. What is different with your production and will we see better, new ideas from you in the future?
I like to take inspiration from music I enjoy listening to, whether it's Punjabi or western music and try to incorporate it into my own projects. I think it's important to keep it varied as it allows more creativity and different approaches to production. My future projects have different vibes
What would you say to those "artists" who claim to produce an album, yet all they do is basically stick their photo on the cover, without giving due credit to musicians, lyricists and other individuals who may have had input.
I believe giving credit where credit is due is so important and it gets overlooked often. Each person is an essential part of a project which is why I've been crediting those involved, because without them, this project wouldn't have happened. It was my intention from the very start of the project to credit the team. So I would say to at least credit those who played a major part in the project.
What do you think is lacking in the industry which should be taken as a risk and experimented by artists?
There's a lack of UK vocalists, mainly female vocalists. Aside from that I feel there's a lot of music that gets pumped out with a "it'll do" attitude. If your heart isn't in a particular project, the quality won't be either
With so many young producers stepping up these days do you think that the future of Bhangra is in good hands? Or do you feel that a lot of people are rushing in too early without fine-tuning their production skills thereby having the risk of fading too soon?
Bhangra has evolved and it's in a new era but I think it's in good hands. There are many brilliant young producers, each bringing something different. At times I thought I may not be ready but I challenged myself to put everything I have into it and it drove me to do better
What advice do you have for young people who want to become music producers?
What's important to note is it doesn't happen overnight. I worked my way up from recreating songs, to doing full remixes to an original release over many years. Firstly understand the fundamentals of music. Practice is key to your development and keep learning. Another important thing is to enjoy it
What would you like to say to the readers at SimplyBhangra.com?

I'd like to thank everyone for the support on Sanjog and I hope you enjoy my future projects
You can follow me at Follow @rupinder_rainer