Catching up with Subaig Singh on Hard To Get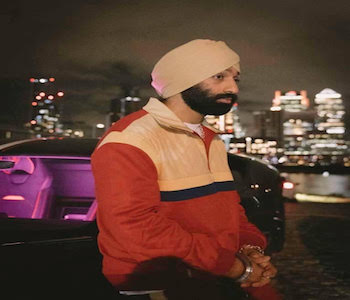 Subaig Singh recently released his track 'Hard To Get', we caught up with him to talk about this release and More!
Again ''Hard to Get" leans into a totally different direction compared to Subaig Singh's recent releases. The song is accompanied by a slick urban music video which was shot in London by Drop Monster and features a soulful break-up story line with featuring actress, Estelle Morain.
This single shows he has again tried a new style of music. He is an artist that works really closely with his team to ensure the songs he releases are perfect before the release. In a previous interview he quoted 'Lyric selection is a very important part of the process and I spend long periods of time discussing lyrics and going back and forth with my song writers until we find something that we are both happy with.'
But this time round he took a different approach.
It was entirely Karan and Deep's creation. Just my voice recorded on top lol. Usually I take charge of what type of song I want and what type of music I want etc... this time it was nice to sit back, put my feet up and watch two experts do the hard work for me! The song is a classic Karan and Deep flavour... North American style RnB/hip hop. I'm singing more softly and in a lower key. The lyrics are modern and commercial, in keeping with what young people in Punjab like to listen to nowadays.
The collaboration with two well known artists Karan Aujla and Deep Jandu is something that has intrigued everyone. So how did the collaboration with them come about?
Both Deep Jandu and Karan Aujla were in the UK doing a couple of shows. Both were flying high at the time and it made sense to collaborate with them. They wanted to break into to the UK market and I wanted to tap into their fan base as well as they hugely popular on a global level.
I asked my PR team to make the approach. We met in a hotel in Birmingham and sealed the deal.
Later that evening I met both in a studio in Leicester and we sat together and worked on the track. It was a great experience watching two masters at work. Karan is very perceptive and can read people very well. He wrote and composed the song on the spot for me and Deep put together a rough guide.
The whole process was complete within a couple of hours. Final vocals and musical touch ups were made later on. Both were great company, very down to earth and professional...
There are many artists that release similar style of music which is in their comfort zone to avoid risk and less fan following. What did Subaig have to say to those critics who claim that his style of production is very similar on most of his songs?
Only haters would say that... my fans would definitely disagree. I think they need to go back over my catalogue and listen to the songs properly and it will be clearly evident that I have worked with a wide range of producers and produced a wide range of songs from Folk to Bhangra to Hip Hop to Religious to RnB to Jungle to Reggaeton to Pop and even an English song.
There is a big catalogue there and I have worked with quite a few different producers and lyricists now.
There is plenty more to come and I am always exploring ways to make my music different and interesting.
Gaining widespread popularity, Subaig Singh is setting his benchmark, establishing himself as an artist with a distinct voice and a look that has spearheaded his ascent in the industry.

You can follow me at Follow @rupinder_rainer