Catching Up with Roma Sagar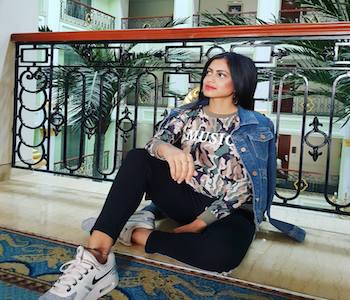 We got the opportunity to catch up with Roma to ask about her new single 'Official Story' and about herself.
Describing her music as fusion, versatile singer and songwriter Roma Sagar released her debut single 'Tere Bin (I Just Want) featuring Rishi Rich, which reached the top 10 of the world charts. Since her debut Roma has worked with the likes of Ikka, Raxstar, H-Dhami, Ramji Gulati and many more established artists and now establishing her own label and brand 'Roma Sagar' as an independent artiste.
Roma, welcome! Firstly, share with us your background and what sparked your passion for music.
I studied Law at university and was planning to become a solicitor. I had always been surrounded by music from a very young age and had a genuine interest for singing. I would grasp any opportunity to perform and hold a mic when I was young and loved watching singing talent shows such as X-Factor, Sa Re Ga Ma etc.
Many powerhouse female singers such as Mariah Carey, Alicia Keys, Beyonce, Shreya Ghoshal and Sunidhi Chauhan inspired me.
Was music in the blood so to speak? Were you encouraged to go into music at a young age? Or is it something you picked up?
My father has a classical degree in music. He would always be listening to old and new Bollywood songs around the house and also Shabad/ Kirtan which is where I must have picked it. He began to encourage me to sing and perform when he heard me singing at home and he felt that I had a talent.
I started performing at live shows and events at the age of 13. After I decided to take music professionally as a career he went onto give me classical vocal training too, so I guess it is a bit of both really, I have had encouragement but also an eagerness to learn and pick up things along the way.
Alongside being a supremely talented vocalist, are you also a songwriter? For you personally what does the song writing process entail? Do you have to be on your own, or can you pick up a pen and write wherever you are?
Thank you. Yes, I am also a songwriter. To be honest this did not come very naturally to me in the beginning. I was advised by a producer to start writing my own music and so I did. I could never grasp the technique to write a song so I just kept trying and trying.
In fact I scribbled out 3 books of songs I had tried writing until finally I felt I had written something good. From then onwards I worked out what I am looking for, a good hook and a feeling the audience can relate to, it's like writing a poem I guess. I enjoy writing in my bedroom usually or when I am somewhere scenic.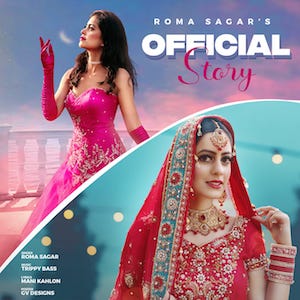 Your new single Official Story is out now, can you tell us about the song and how it came about.
I am super excited to share my new song with you all. It is a Punjabi love song about a girl who is waiting for her partner to finally propose to her and declare their relationship official. It is a very dreamy and romantic style of song. My team had sent me these lyrics (which have been penned by Mani Kahlon) and I fell in love with them straight away so we went onto record the song. It was a song I connected to immediately and felt my voice would suit the vibe.
A lot of stars are resorting to social networking these days to reach out to their fans directly and have found the experience as exciting. Do you interact with your fans through this medium?
Oh Off-course. I feel we are so lucky to have this form of connection with the audience so I reply to Dm's, comments and go live as much as I can to interact via Instagram and Facebook.
You definitely have uniqueness to your style. What would you say sets Roma Sagar apart? Bringing positive representation for ehnkaa-wearers to the scene?
I think my style is very similar to my music, it's a fusion of east meets west. I love combining western and eastern clothing which is what sets me apart.
If you look back at the years that you have spent in the industry what do you think is your biggest achievement to date? And have you had any failures?
My biggest achievement is my growing fan base. I am an independent artist without any links in the music industry which can be hard sometimes. Unfortunately (as many artists would agree) sometimes it's about who you know to become successful in the industry, so for me to be able to claim my fame on my own two feet is very satisfying for me.
Also the fact that I representing the women in the U.K is very exciting. We have very limited female artists here, so hopefully I am a role model for upcoming female youth and talent. I also won 2 awards as The Best Female Singer at The U.K Bhangra Awards, which is a huge achievement, getting recognition for my work is very important to me.
With regards to failure, I would not describe it as that but I do believe we learn by making mistakes, which has been the case for me, each mistake has made me a better artist with better knowledge of the scene so all's good.
Roma, we wish you the best and hope you achieve all that and more. And we appreciate the interview! What closing message do you have for your rapidly-growing fan base?
Thank you for all the love and support. Watch out for more music coming soon and follow me on my social networks @iamromasagar. Finally thank you to the whole SimplyBhangra Team for having me.
You can follow me at Follow @rupinder_rainer